Paving the way
12th December 2013
Page 8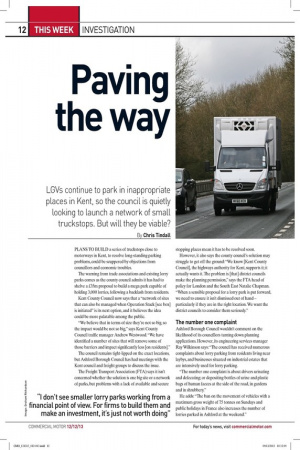 Page 9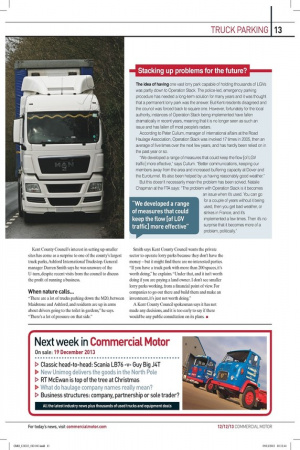 Page 8, 12th December 2013 —
Paving the way
Close
LGVs continue to park in inappropriate places in Kent, so the council is quietly Looking to launch a network of small truckstops. But will they be viable? By Chris Tindall
PLANS TO BUILD a series of truckstops close to motorways in Kent, to resolve long-standing parking problems, could be scuppered by objections from councillors and economic troubles.
The warning from trade associations and existing lorry parks comes as the county council admits it has had to shelve a £35m proposal to build a mega park capable of holding 3,000 lorries, following a backlash from residents.
Kent County Council now says that a "network of sites that can also be managed when Operation Stack [see box] is initiated" is its next option, and it believes the idea could be more palatable among the public.
"We believe that in terms of size they're not so big, so the impact would be not so big," says Kent County Council traffic manager Andrew Westwood. "We have identified a number of sites that will remove some of those barriers and impact significantly less [on residents]."
The council remains tight-lipped on the exact locations, but Ashford Borough Council has had meetings with the Kent council and freight groups to discuss the issue. The Freight Transport Association (FTA) says it isn't concerned whether the solution is one big site or a network of parks, but problems with a lack of available and secure
stopping places mean it has to be resolved soon.
However, it also says the county council's solution may struggle to get off the ground: "We know [Kent County Council], the highways authority for Kent, supports it; it actually wants it. The problem is [that] district councils make the planning permission," says the FTA head of policy for London and the South East Natalie Chapman. "When a sensible proposal for a lorry park is put forward, we need to ensure it isn't dismissed out of hand — particularly if they are in the right location. We want the district councils to consider them seriously." The number one complaint
Ashford Borough Council wouldn't comment on the likelihood of its councillors turning down planning applications. However, its engineering services manager Ray Wilkinson says: "The council has received numerous complaints about lorry parking from residents living near laybys, and businesses situated on industrial estates that are intensively used for lorry parking.
"The number one complaint is about drivers urinating and defecating; or depositing bottles of urine and plastic bags of human faeces at the side of the road, in gardens and in shrubbery."
He adds: "The ban on the movement of vehicles with a maximum gross weight of 7.5 tonnes on Sundays and public holidays in France also increases the number of lorries parked in Ashford at the weekend."
Kent County Council's interest in setting up smaller sites has come as a surprise to one of the county's largest truck parks, Ashford International Truckstop. General manager Darren Smith says he was unaware of the U-turn, despite recent visits from the council to discuss the profit of running a business.
When nature calls...
"There are a lot of trucks parking down the M20, between Maidstone and Ashford, and residents are up in arms about drivers going to the toilet in gardens," he says. "There's a lot of pressure on that side."
Smith says Kent County Council wants the private sector to operate lorry parks because they don't have the money — but it might find there are no interested parties. "If you have a truck park with more than 200 spaces, it's worth doing," he explains. "Under that, and it isn't worth doing if you are paying a land owner. I don't see smaller lorry parks working, from a financial point of view. For companies to go out there and build them and make an investment, it's just not worth doing." A Kent County Council spokesman says it has not made any decisions, and it is too early to say if there would be any public consultation on its plans. •