Driver CPC: nothing to fear
12th December 2013
Page 7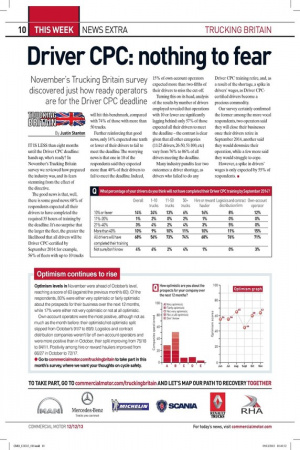 Page 7, 12th December 2013 —
Driver CPC: nothing to fear
Close
November's Trucking Britain survey discovered just how ready operators are for the Driver CPC deadline By Justin Stanton
IT IS LESS than eight months until the Driver CPC deadline: hands up, who's ready? In November's Trucking Britain survey we reviewed how prepared the industry was, and its fears stemming from the effect of the directive. The good news is that, well, there is some good news: 68% of respondents expected all their drivers to have completed the required 35 hours of training by the deadline. It's no surprise that the larger the fleet, the greater the likelihood that all drivers will be Driver CPC-certified by September 2014: for example, 56% of fleets with up to 10 trucks
will hit this benchmark, compared with 74% of those with more than 50 trucks. Further reinforcing that good news, only 14% expected one tenth or fewer of their drivers to fail to meet the deadline. The worrying news is that one in 10 of the respondents said they expected more than 40% of their drivers to fail to meet the deadline. Indeed,
15% of own-account operators expected more than two-fifths of their drivers to miss the cut-off.
Turning this on its head, analysis of the results by number of drivers employed revealed that operations with 10 or fewer are significantly lagging behind: only 57% of those expected all their drivers to meet the deadline — the contrast is clear given that all other categories (11-25 drivers, 26-50,51-100, etc) vary from 76`)/0 to 86% of all drivers meeting the deadline. Many industry pundits fear two outcomes: a driver shortage, as drivers who failed to do any
Driver CPC training retire, and, as a result of the shortage, a spike in drivers' wages, as Driver CPCcertified drivers become a precious commodity.
Our survey certainly confirmed the former: among the more vocal respondents, two operators said they will close their businesses once their drivers retire in September 2014, another said they would downsize their operation, while a few more said they would struggle to cope. However, a spike in drivers' wages is only expected by 55% of respondents. •