Mirrored effects
12th December 2013
Page 30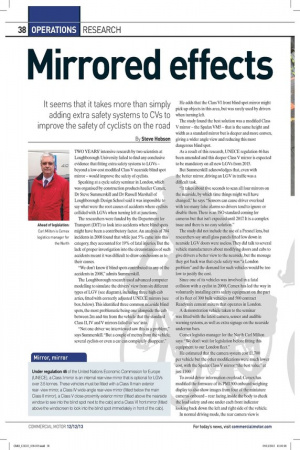 Page 31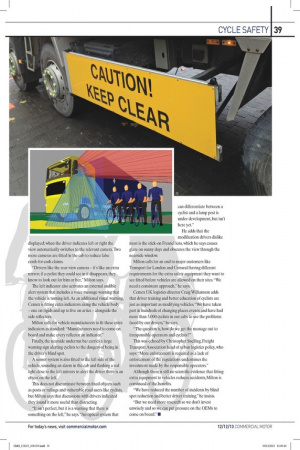 Page 30, 12th December 2013 —
Mirrored effects
Close
It seems that it takes more than simply adding extra safety systems to CVs to improve the safety of cyclists on the road By Steve Hobson
Mirror, mirror
Under regulation 46 of the United Nations Economic Commission for Europe (UNECE), a Class I mirror is an internal rear-view mirror that is optional for LGVs over 3.5 tonnes. These vehicles must be fitted with a Class II main exterior rearview mirror, a Class IV wide-angle rear-view mirror (fitted below the main Class II mirror), a Class V close-proximity exterior mirror (fitted above the nearside window to see into the blind spot next to the cab) and a Class VI front mirror (fitted above the windscreen to look into the blind spot immediately in front of the cab).
TWO YEARS' intensive research by two scientists at Loughborough University failed to find any conclusive evidence that fitting extra safety systems to LGVs — beyond a low-cost modified Class V nearside blind spot mirror — would improve the safety of cyclists.
Speaking at a cycle safety seminar in London, which was organised by construction products haulier Cemex, Dr Steve Summerskill and Dr Russell Marshall of Loughborough Design School said it was impossible to say what were the root causes of accidents where cyclists collided with LGVs when turning left at junctions.
The researchers were funded by the Department for Transport (DfT) to look into accidents where blind spots might have been a contributory factor. An analysis of 704 incidents in 2008 found that while just 5% came into this category, they accounted for 19% of fatal injuries. But the lack of proper investigation into the circumstances of such accidents meant it was difficult to draw conclusions as to their causes.
"We don't know if blind spots contributed to any of the accidents in 2008," admits Summerskill.
The Loughborough research used advanced computer modelling to simulate the drivers' view from six different types of LGV (see diagram), including three high-cab artics, fitted with correctly adjusted UNECE mirrors (see box, below). This identified three common nearside blind spots, the most problematic being one alongside the cab between 2m and 4m from the vehicle that the standard Class II, IV and V mirrors failed to 'see' into.
"Not one driver we interviewed saw this as a problem," says Summerskill. "But a couple of metres from the vehicle, several cyclists or even a car can completely disappear."
He adds that the Class VI front blind spot mirror might pick up objects in this area, but was rarely used by drivers when turning left.
The study found the best solution was a modified Class V mirror — the Spafax VMS — that is the same height and width as a standard mirror but is deeper and more convex, giving a wider angle view and reducing this most dangerous blind spot.
As a result of this research, UNECE regulation 46 has been amended and this deeper Class V mirror is expected to be mandatory on all new LGVs from 2015.
But Summerskill acknowledges that, even with the better mirror, driving an LGV in traffic was a difficult task.
"It takes about five seconds to scan all four mirrors on the nearside, by which time things might well have changed," he says. "Sensors can cause driver overload with too many false alarms so drivers tend to ignore or disable them. There is an ISO standard coming for cameras but that isn't expected until 2017. It is a complex issue and there is no easy solution."
The study did not include the use of a Fresnel lens, but researchers say small glass panels fitted low down in nearside LGV doors were useless. They did talk to several vehicle manufacturers about modifying doors and cabs to give drivers a better view to the nearside, but the message they got back was that cycle safety was "a London problem" and the demand for such vehicles would be too low to justify the cost.
Since one of its vehicles was involved in a fatal collision with a cyclist in 2000, Cemex has led the way in voluntarily installing extra safety equipment on the part of its fleet of 300 bulk vehicles and 500 contract Readymix cement mixers that operates in London.
A demonstration vehicle taken to the seminar was fitted with the latest camera, sensor and audible warning systems, as well as extra signage on the nearside underrun bars.
Cemex logistics manager for the North Carl Milton says: "We don't wait for legislation before fitting this equipment to our London fleet."
He estimated that the camera system cost £1,700 per vehicle but the other modifications were much lower cost, with the Spafax Class V mirror "the best value" at just £100.
To avoid driver information overload, Cemex has modified the firmware of its PM1300 onboard weighing display to also show images from four of the miniature cameras onboard — rear facing, inside the body to check the load safety and one under each front indicator looking back down the left and right side of the vehicle. In normal driving mode, the rear camera view is
displayed; when the driver indicates left or right the view automatically switches to the relevant camera. Two more cameras are fitted in the cab to reduce false crash-for-cash claims.
"Drivers like the rear-view camera — it's like an extra mirror; if a cyclist they could see in it disappears, they know to look out for him or her," Milton says.
The left indicator also activates an external audible alert system that includes a voice message warning that the vehicle is turning left. As an additional visual warning, Cemex is fitting extra indicators along the vehicle body — one on rigids and up to five on artics — alongside the side reflectors.
Milton calls for vehicle manufacturers to fit these extra indicators as standard: "Manufacturers need to come on board and make every reflector an indicator."
Finally, the nearside underrun bar carries a large warning sign alerting cyclists to the dangers of being in the driver's blind spot.
A sensor system is also fitted to the left side of the vehicle, sounding an alarm in the cab and flashing a red light close to the left mirrors to alert the driver there is an object on the left.
This does not discriminate between fixed objects such as posts or railings and vulnerable road users like cyclists, but Milton says that discussions with drivers indicated they found it more useful than distracting. "It isn't perfect, but it is a warning that there is something on the left," he says. "An optical system that
can differentiate between a cyclist and a lamp post is under development, but isn't here yet." He adds that the modification drivers dislike
most is the stick-on Fresnel lens, which he says causes glare on sunny days and obscures the view through the nearside window.
Milton calls for an end to major customers like Transport for London and Crossrail having different requirements for the extra safety equipment they want to see fitted before vehicles are allowed on their sites. "We need a consistent approach," he says.
Cemex UK logistics director Craig Williamson adds that driver training and better education of cyclists are just as important as modifying vehicles. "We have taken part in hundreds of changing places events and have had more than 5,000 cyclists in our cabs to see the problems faced by our drivers," he says.
"The question is, how do we get the message out to irresponsible operators and cyclists?"
This was echoed by Christopher Snelling, Freight Transport Association head of urban logistics policy, who says: "More enforcement is required as a lack of enforcement of the regulations undermines the investment made by the responsible operators."
Although there is still no scientific evidence that fitting extra equipment to vehicles reduces accidents, Milton is convinced of the benefits.
"We have reduced the number of incidents by blind spot reduction and better driver training," he insists. "But we need more research so we don't invest unwisely and so we can put pressure on the OEMs to come on board." •