New standard for construction
12th December 2013
Page 3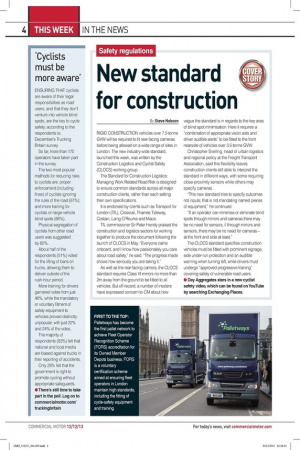 Page 3, 12th December 2013 —
New standard for construction
Close
By Steve Hobson
RIGID CONSTRUCTION vehicles over 7.5-tonne GVW will be required to fit rear-facing cameras before being allowed on a wide range of sites in London. The new industry-wide standard, launched this week, was written by the Construction Logistics and Cyclist Safety (CLOCS) working group.
The Standard for Construction Logistics: Managing Work Related Road Risk is designed to ensure common standards across all major construction clients, rather than each setting their own specifications.
It is endorsed by clients such as Transport for London (TfL), Crossrail, Thames Tideway, Costain, Laing O'Rourke and Mace.
TfL commissioner Sir Peter Hendy praised the construction and logistics sectors for working together to produce the document following the launch of CLOCS in May. "Everyone came onboard, and I know how passionately you care about road safety," he said. "The progress made shows how seriously you are taking it." As well as the rear-facing camera, the CLOCS standard requires Class VI mirrors no more than 2m away from the ground to be fitted to all vehicles. But off-record, a number of insiders have expressed concern to CM about how
vague the standard is in regards to the key area of blind spot minimisation. Here it requires a "combination of appropriate vision aids and driver audible alerts" to be fitted to the front nearside of vehicles over 3.5-tonne GVW.
Christopher Snelling, head of urban logistics and regional policy at the Freight Transport Association, said this flexibility leaves construction clients still able to interpret the standard in different ways, with some requiring close-proximity sensors while others may specify cameras.
"This new standard tries to specify outcomes not inputs; that is not mandating named pieces of equipment," he continued.
"If an operator can minimise or eliminate blind spots through mirrors and cameras there may be no need for sensors, if through mirrors and sensors, there may be no need for cameras — at the front and side at least."
The CLOCS standard specifies construction vehicles must be fitted with prominent signage, side under-run protection and an audible warning when turning left, while drivers must undergo "approved progressive training" covering safety of vulnerable road users.
• Day Aggregates stars in a new cyclist safety video, which can be found on YouTube by searching Exchanging Places.