Small, but mighty
12th December 2013
Page 23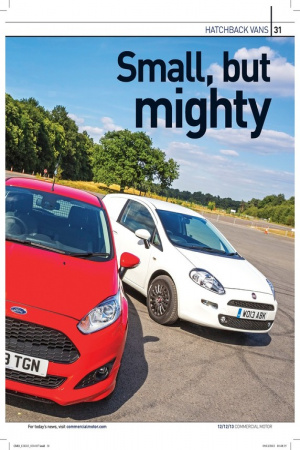 Page 22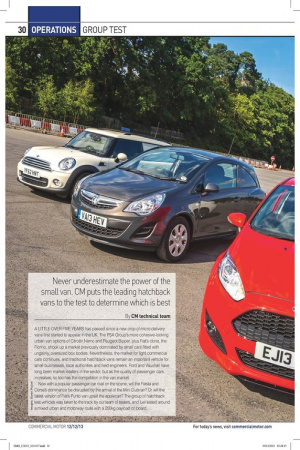 Page 24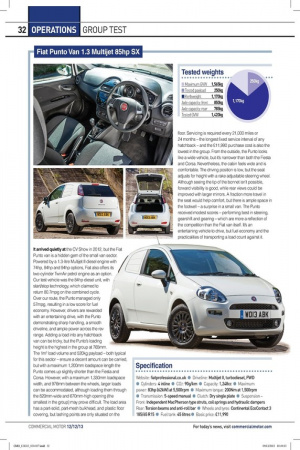 Page 25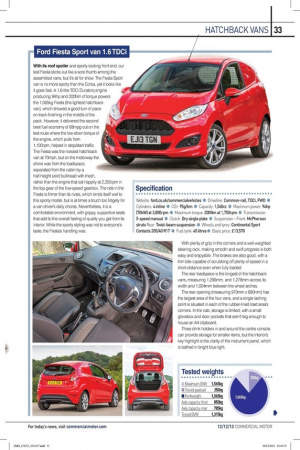 Page 26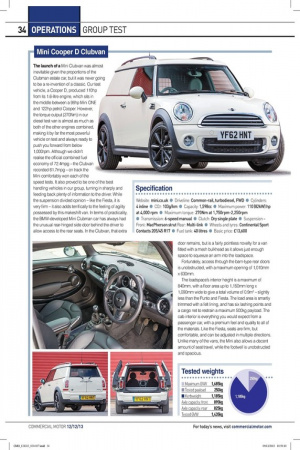 Page 27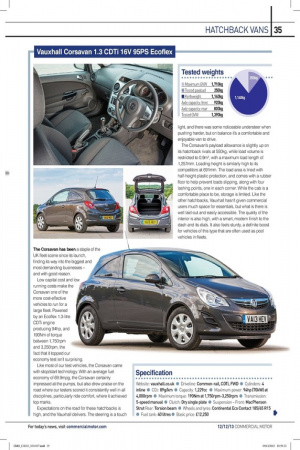 Page 29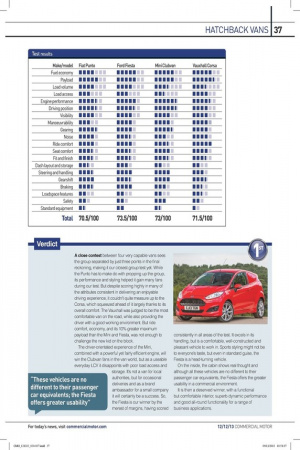 Page 23, 12th December 2013 —
Small, but mighty
Close
Never underestimate the power of the small van. CM puts the leading hatchback vans to the test to determine which is best By CM technical team
A LITTLE OVER FIVE YEARS has passed since a new crop of micro-delivery vans first started to appear in the UK. The PSA Group's more cohesive-looking urban van options of Citroen Nemo and Peugeot Bipper, plus Fiat's clone, the Fiorino, shook up a market previously dominated by small cars fitted with ungainly, oversized box bodies. Nevertheless, the market for light commercial cars continues, and traditional hatchback vans remain an important vehicle for small businesses, local authorities and field engineers. Ford and Vauxhall have long been market leaders in the sector, but as the quality of passenger cars increases, so too has the competition in the van market. 5. Now with a popular passenger car rival on the scene, will the Fiesta and Corsa's dominance be disrupted by the arrival of the Mini Clubvan? Or will the Alatest version of Fiat's Punto van upset the applecart? The group of hatchback
test vehicles was taken to the track by our team of testers, and fuel tested around 2 a mixed urban and motorway route with a 250kg payload on board.
Fiat Punto Van 1.3 Multijet 85hp SX
Tested weights
• Maximum GVW 1,565kg • Tested payload 250kg • Kerbweight 1,170kg Axle capacity: front 850kg Axle capacity: rear 785kg Tested GVW 1,420kg
It arrived quietly at the CV Show in 2012, but the Fiat Punto van is a hidden gem of the small van sector. Powered by a 1.3-litre Multijet II diesel engine with 74hp, 84hp and 94hp options, Fiat also offers its two-cylinder TwinAir petrol engine as an option. Our test vehicle was the 84hp diesel unit, with start/stop technology, which claimed to return 80.7mpg on the combined cycle. Over our route, the Punto managed only 57mpg, resulting in a low score for fuel economy. However, drivers are rewarded with an entertaining drive, with the Punto demonstrating sharp handling, a smooth driveline, and ample power across the rev range. Adding a load into any hatchback van can be tricky, but the Punto's loading
floor. Servicing is required every 21,000 miles or 24 months — the longest fixed service interval of any hatchback — and the £1 1,990 purchase cost is also the lowest in the group. From the outside, the Punto looks like a wide vehicle, but it's narrower than both the Fiesta and Corsa. Nevertheless, the cabin feels wide and is comfortable. The driving position is low, but the seat adjusts for height with a rake adjustable steering wheel. Although seeing the tip of the bonnet isn't possible, forward visibility is good, while rear views could be improved with larger mirrors. A fraction more travel in the seat would help comfort, but there is ample space in the footwell — a surprise in a small van. The Punto received modest scores — performing best in steering, gearshift and gearing — which are more a reflection of the competition than the Fiat van itself. It's an entertaining vehicle to drive, but fuel economy and the practicalities of transporting a load count against it.
Specification
Website: fiatprofessional.co.uk • Driveline: Multijet II, turbodiesel, FWD • Cylinders: 4 inline • CO2: 90g/km • Capacity: 1,248cc • Maximum power: 83hp (62kW) at 5,500rpm • Maximum torque: 200Nm at 1,500rpm • Transmission: 5-speed manual • Clutch: Dry single plate • Suspension Front: Independent MacPherson type struts, coil springs and hydraulic dampers Rear: Torsion beams and anti-roll bar • Wheels and tyres: Continental EcoContact 3 185/65R15 • Fuel tank: 45 litres • Basic price: £11,990
Ford Fiesta Sport van 1.6 TDCi
With its roof spoiler and sporty-looking front end, our test Fiesta sticks out like a sore thumb among the assembled vans, but it's all for show. The Fiesta Sport van is no more sporty than the Corsa, yet it looks like it goes fast. A 1.6-litre TDCi Duratorq engine producing 94hp and 200Nm of torque powers the 1,065kg Fiesta (the lightest hatchback van), which showed a good turn of pace on track finishing in the middle of the pack. However, it delivered the second best fuel economy of 68mpg out on the test route where the low-down torque of the engine, which pulls from 1,100rpm, helped in stop/start traffic. The Fiesta was the noisiest hatchback van at 70mph, but on the motorway the drone was from the loadspace, separated from the cabin by a half-height solid bulkhead with mesh,
rather than the engine that sat happily at 2,250rpm in the top gear of the five-speed gearbox. The ride in the Fiesta is firmer than its rivals, which lends itself well to this sporty model, but is at times a touch too fidgety for a van driver's daily chores. Nevertheless, it is a comfortable environment, with grippy, supportive seats that add to the overall feeling of quality you get from its interior. While the sporty styling was not to everyone's taste, the Fiesta's handling was.
Specification
Website: ford.co.uk/commercialvehicles • DriveLine: Common-rail, TDCi, FIND • Cylinders: 4 inline • CO2: 95g/km • Capacity: 1,560cc • Maximum power: 94hp (70kW) at 3,800rpm • Maximum torque: 200Nm at 1,750rpm • Transmission: 5-speed manual • Clutch: Dry single plate • Suspension Front: McPherson struts Rear: Twist-beam suspension • Wheels and tyres: Continental Sport Contacts 205/40 R17 • Fuel tank: 45 litres • Basic price: 03,570
With plenty of grip in the corners and a well-weighted steering rack, making smooth and swift progress is both easy and enjoyable. The brakes are also good, with a firm bite capable of scrubbing off plenty of speed in a short distance even when fully loaded.
The rear loadspace is the longest of the hatchback vans, measuring 1,296mm, and 1,278mm across its width and 1,004mm between the wheel arches.
The rear opening (measuring 970mm x 690mm) has the largest area of the four vans, and a single lashing point is situated in each of the rubber-lined load area's corners. In the cab, storage is limited, with a small glovebox and door pockets that aren't big enough to house an A4 clipboard.
Three drink holders in and around the centre console can provide storage for smaller items, but the interior's key highlight is the clarity of the instrument panel, which is bathed in bright blue light.
Tested weights
• Maximum GVW 1,565kg • Tested payload 250kg • Kerbweight 1,065kg Axle capacity: front 850kg Axle capacity: rear 785kg Tested GVW 1,315kg
Mini Cooper D Clubvan
The launch of a Mini Clubvan was almost inevitable given the proportions of the Clubman estate car, but it was never going to be a re-invention of a classic. Our test vehicle, a Cooper D, produced 110hp from its 1.6-litre engine, which sits in the middle between a 98hp Mini ONE and 122hp petrol Cooper. However, the torque output (270Nm) in our diesel test van is almost as much as both of the other engines combined, making it by far the most powerful vehicle on test and always ready to push you forward from below 1,000rpm. Although we didn't realise the official combined fuel economy of 72.4mpg -the Clubvan recorded 61.7mpg on track the Mini comfortably won each of the speed tests. It also proved to be one of the best handling vehicles in our group, turning in sharply and feeding back plenty of information to the driver. While the suspension divided opinion like the Fiesta, it is very firm it also adds terrifically to the feeling of agility possessed by this makeshift van. In terms of practicality, the BMW-developed Mini Clubman car has always had the unusual rear-hinged side door behind the driver to allow access to the rear seats. In the Clubvan, that extra
door remains, but is a fairly pointless novelty for a van fitted with a mesh bulkhead as it allows just enough space to squeeze an arm into the loadspace.
Fortunately, access through the barn-type rear doors is unobstructed, with a maximum opening of 1,010mm x 630mm.
The loadspace's interior height is a maximum of 840mm, with a floor area up to 1,150mm long x 1,090mm wide to give a total volume of 0.9m3slightly less than the Punto and Fiesta. The load area is smartly trimmed with a felt lining, and has six lashing points and a cargo net to restrain a maximum 500kg payload. The cab interior is everything you would expect from a passenger car, with a premium feel and quality to all of the materials. Like the Fiesta, seats are firm, but comfortable, and can be adjusted in multiple directions. Unlike many of the vans, the Mini also allows a decent amount of seat travel, while the footwell is unobstructed and spacious.
Specification
Website: mini.co.uk • Driyeline: Common-rail, turbodiesel, FWD • Cylinders: 4 inline • CO2: 103g/km • Capacity: 1,598cc • Maximum power: 110 (82kW) hp at 4,000 rpm • Maximum torque: 270Nm at 1,75Orpm-2,25Orpm • Transmission: 6-speed manual • Clutch: Dry single plate • Suspension Front: MacPherson strut Rear: Multi-link • Wheels and tyres: Continental Sport Contacts 205/45 R17 • Fuel tank: 40 litres • Basic price: £13,600
Tested weights
• Maximum GVW 1,685kg • Tested payload 250kg • Kerbweight 1,185kg Axle capacity: front 890kg Axle capacity: rear 825kg Tested GVW 1,435kg
Vauxhall Corsavan 1.3 CDTi 16V 95PS Ecoflex
Tested weights
• • Maximum GVW 1,710kg • Tested payload 250kg • Kerbweight 1,140kg Axle capacity: front 920kg Axle capacity: rear 800kg Tested GVW 1,390kg The Corsavan has been a staple of the UK fleet scene since its launch, finding its way into the biggest and
most demanding businesses and with good reason. Low capital cost and low running costs make the Corsavan one of the more cost-effective vehicles to run for a large fleet. Powered by an Ecoflex 1.3-litre CDTi engine producing 94hp, and 190Nm of torque between 1,750rpm and 3,250rpm, the
fact that it topped our economy test isn't surprising.
Like most of our test vehicles, the Corsavan came with stop/start technology. With an average fuel economy of 69.9mpg, the Corsavan certainly impressed at the pumps, but also drew praise on the road where our testers scored it consistently well in all disciplines, particularly ride comfort, where it achieved top marks. Expectations on the road for these hatchbacks is high, and the Vauxhall delivers. The steering is a touch
light, and there was some noticeable understeer when pushing harder, but on balance it's a comfortable and enjoyable van to drive.
The Corsavan's payload allowance is slightly up on its hatchback rivals at 550kg, while load volume is restricted to 0.9m3, with a maximum load length of 1,257mm. Loading height is similarly high to its competitors at 691mm. The load area is lined with half-height plastic protection, and comes with a rubber floor to help prevent loads slipping, along with four lashing points, one in each corner. While the cab is a comfortable place to be, storage is limited. Like the other hatchbacks, Vauxhall hasn't given commercial users much space for essentials, but what is there is well laid-out and easily accessible. The quality of the interior is also high, with a smart, modern finish to the dash and its dials. It also feels sturdy, a definite boost for vehicles of this type that are often used as pool vehicles in fleets.
Specification
Website: vauxhall.co.uk • Driveline: Common-rail, CDTi, FWD • Cylinders: 4 inline • CO2: 89g/km • Capacity: 1,229cc • Maximum power: 94hp (70kW) at 4,000rpm • Maximum torque: 190Nm at 1,75Orpm-3,25Orpm • Transmission: 5-speed manual • Clutch: Dry single plate Suspension Front: MacPherson Strut Rear: Torsion beam • Wheels and tyres: Continental Eco Contact 185/65 R15 • Fuel tank: 40 litres • Basic price: £12,250
A close contest between four very capable vans sees the group separated by just three points in the final reckoning, making it our closest group test yet. While the Punto has to make do with propping up the group, its performance and styling helped it gain many fans during our test. But despite scoring highly in many of the attributes consistent in delivering an enjoyable driving experience, it couldn't quite measure up to the Corsa, which squeezed ahead of it largely thanks to its overall comfort. The Vauxhall was judged to be the most comfortable van on the road, while also providing the driver with a good working environment. But ride comfort, economy, and its 10% greater maximum payload than the Mini and Fiesta, was not enough to challenge the new kid on the block. The driver-orientated experience of the Mini, combined with a powerful yet fairly efficient engine, will win the Clubvan fans in the van world, but as a useable everyday LCV it disappoints with poor load access and storage. It's not a van for local authorities, but for occasional deliveries and as a brand ambassador for a small company it will certainly be a success. So, the Fiesta is our winner by the merest of margins, having scored
consistently in all areas of the test. It excels in its handling, but is a comfortable, well-constructed and pleasant vehicle to work in. Sports styling might not be to everyone's taste, but even in standard guise, the Fiesta is a head-turning vehicle.
On the inside, the cabin shows real thought and although all these vehicles are no different to their passenger car equivalents, the Fiesta offers the greater usability in a commercial environment.
It is then a deserved winner, with a functional but comfortable interior, superb dynamic performance and good all-round functionality for a range of business applications.