Age
12th December 2013
Page 18
Page 19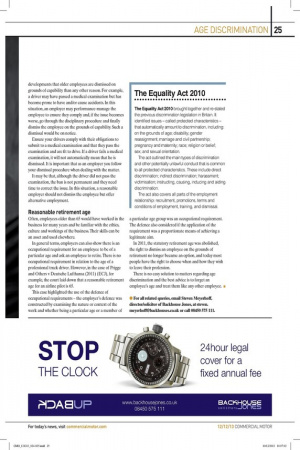 Page 18, 12th December 2013 —
Age
Close
Employers need to be aware of the legal pitfalls of dismissing elderly workers By Steven Meyerhoff
WITH HAULIERS FINDING it increasingly difficult to attract younger drivers, the issue of age discrimination is likely to gain greater prominence in the years ahead as the industry grapples with the challenges of an ageing workforce.
The Equality Act 2010, which came into force in October of that year, set out the circumstances in which it is unlawful for an employer to discriminate against an employee or job applicant based on age. A business cannot: • directly discriminate against an employee or job applicant by treating them less favourably than others because of age without an objective justification; • indirectly discriminate against an employee or job applicant by applying a provision, criterion or practice that disadvantages an age group without an objective justification; • subject a job applicant or employee to any harassment related to age;
• victimise a job applicant or employee because they have made or intend to make an age discrimination complaint under the Equality Act 2010. The objective justification test contained in the act
therefore permits both direct and indirect discrimination in certain circumstances. An employer must show that its actions were objectively justified, and a proportionate means of achieving a legitimate aim. Although the definition of legitimate aim is dependent on the circumstances, there are clear examples where direct or indirect age discrimination may be justified: • reasonable business needs and economic efficiency (but not measures designed only to save costs); • health, welfare and safety considerations (including E, protection of younger or older people); t' • particular training requirements of the job. Capability is one of the fair reasons for which an employee can be dismissed. Grounds for arguing capability arises in relation to an employee's ability to
perform their job by reference to their skill, aptitude, health or any other physical or mental quality.
As most people in the haulage industry will be aware, there are legal requirements that require all professional drivers to submit to medical examination every five years from the age of 45 and a yearly medical examination from the age of 65. Lost entitlements
If a driver fails the examination, they may lose their professional driving licence — in severe cases, all their entitlements may be lost, and they will no longer be able to supply the service they were originally employed for. In other words, they are no longer capable of doing their job. It has become more common since the latest legislative
developments that older employees are dismissed on grounds of capability than any other reason. For example, a driver may have passed a medical examination but has become prone to have and/or cause accidents. In this situation, an employer may performance-manage the employee to ensure they comply and, if the issue becomes worse, go through the disciplinary procedure and finally dismiss the employee on the grounds of capability. Such a dismissal would be on notice.
Ensure your drivers comply with their obligations to submit to a medical examination and that they pass the examination and are fit to drive. If a driver fails a medical examination, it will not automatically mean that he is dismissed. It is important that as an employer you follow your dismissal procedure when dealing with the matter.
It may be that, although the driver did not pass the examination, the ban is not permanent and they need time to correct the issue. In this situation, a reasonable employer should not dismiss the employee but offer alternative employment. Reasonable retirement age
Often, employees older than 65 would have worked in the business for many years and be familiar with the ethics, culture and workings of the business. Their skills can be an asset and used elsewhere.
In general terms, employers can also show there is an occupational requirement for an employee to be of a particular age and ask an employee to retire. There is no occupational requirement in relation to the age of a professional truck driver. However, in the case of Prigge and Others v Deutsche Lufthansa (2011) (ECJ), for example, the court laid down that a reasonable retirement age for an airline pilot is 65. This case highlighted the use of the defence of occupational requirements — the employer's defence was constructed by examining the nature or context of the work and whether being a particular age or a member of
a particular age group was an occupational requirement. The defence also considered if the application of the requirement was a proportionate means of achieving a legitimate aim.
In 2011, the statutory retirement age was abolished, the right to dismiss an employee on the grounds of retirement no longer became an option, and today most people have the right to choose when and how they wish to leave their profession. There is no easy solution to matters regarding age discrimination and the best advice is to forget an employee's age and treat them like any other employee. •
The Equality Act 2010
The Equality Act 2010 brought together and re-stated the previous discrimination legislation in Britain. It identified issues — called protected characteristics — that automatically amount to discrimination, including: on the grounds of age; disability; gender reassignment; marriage and civil partnership; pregnancy and maternity; race; religion or belief; sex; and sexual orientation.
The act outlined the main types of discrimination and other potentially unlawful conduct that is common to all protected characteristics. These include direct discrimination; indirect discrimination; harassment; victimisation; instructing, causing, inducing and aiding discrimination.
The act also covers all parts of the employment relationship: recruitment, promotions, terms and conditions of employment, training, and dismissal.
• For all related queries, email Steven Meyerhoff, director/solicitor of Backhouse Jones, at steven. meyerhoff@backhouses.co.uk or call 08450 575 111.