Worker was impaled by forklift truck
12th December 2013
Page 15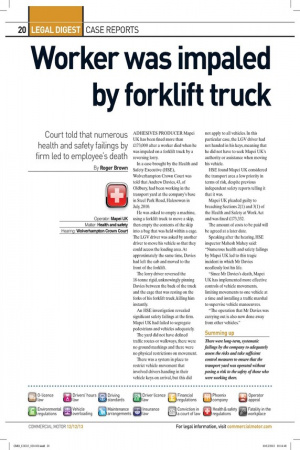 Page 15, 12th December 2013 —
Worker was impaled by forklift truck
Close
Court told that numerous health and safety failings by firm led to employee's death By Roger Brown
ADHESIVES PRODUCER Mapei UK has been fined more than £173,000 after a worker died when he was impaled on a forklift truck by a reversing lorry.
In a case brought by the Health and Safety Executive (HSE), Wolverhampton Crown Court was told that Andrew Davies, 43, of Oldbury, had been working in the transport yard at the company's base in Steel Park Road, Halesowen in July, 2010.
He was asked to empty a machine, using a forklift truck to move a skip, then empty the contents of the skip into a bag that was held within a cage. The LGV driver was asked by another driver to move his vehicle so that they could access the loading area. At approximately the same time, Davies had left the cab and moved to the front of the forklift.
The lorry driver reversed the 18-tonne rigid, unknowingly pinning Davies between the back of the truck and the cage that was resting on the forks of his forklift truck, killing him instantly.
An HSE investigation revealed significant safety failings at the firm. Mapei UK had failed to segregate pedestrians and vehicles adequately.
The yard did not have defined traffic routes or walkways, there were no ground markings and there were no physical restrictions on movement. There was a system in place to restrict vehicle movement that involved drivers handing in their vehicle keys on arrival, but this did
not apply to all vehicles. In this particular case, the LGV driver had not handed in his keys, meaning that he did not have to seek Mapei UK's authority or assistance when moving his vehicle.
HSE found Mapei UK considered the transport area a low priority in terms of risk, despite previous independent safety reports telling it that it was.
Mapei UK pleaded guilty to breaching Sections 2(1) and 3(1) of the Health and Safety at Work Act and was fined £173,332.
The amount of costs to be paid will be agreed at a later date.
Speaking after the hearing, HSE inspector Mahesh Mahey said: "Numerous health and safety failings by Mapei UK led to this tragic incident in which Mr Davies needlessly lost his life.
"Since Mr Davies's death, Mapei UK has implemented more effective controls of vehicle movements, limiting movements to one vehicle at a time and installing a traffic marshal to supervise vehicle manoeuvres.
"The operation that Mr Davies was carrying out is also now done away from other vehicles."
Summing up
There were long-term, systematic failings by the company to adequately assess the risks and take sufficient control measures to ensure that the transport yard was operated without posing a risk to the safety of those who were working there.