Touching base
12th December 2013
Page 12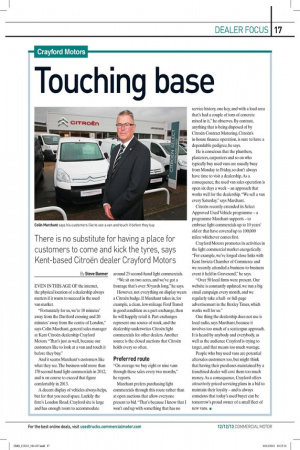 Page 12, 12th December 2013 —
Touching base
Close
There is no substitute for having a place for customers to come and kick the tyres, says Kent-based Citroen dealer Crayford Motors By Steve Banner
EVEN IN THIS AGE OF the internet, the physical location of a dealership always matters if it wants to succeed in the used van market.
"Fortunately for us, we're 10 minutes' away from the Dartford crossing and 20 minutes' away from the centre of London," says Colin Marchant, general sales manager at Kent Citroen dealership Crayford Motors. "That's just as well, because our customers like to look at a van and touch it before they buy."
And it seems Marchant's customers like what they see. The business sold more than 170 second-hand light commercials in 2012, and is on course to exceed that figure comfortably in 2013. A decent display of vehicles always helps, but for that you need space. Luckily the firm's London Road, Crayford site is large and has enough room to accommodate
around 25 second-hand light commercials.
"We sit on two acres, and we've got a frontage that's over 50 yards long," he says.
However, not everything on display wears a Citroen badge. If Marchant takes in, for example, a clean, low-mileage Ford Transit in good condition as a part-exchange, then he will happily retail it. Part-exchanges represent one source of stock, and the dealership underwrites Citroen light commercials for other dealers. Another source is the closed auctions that Citroen holds every so often. Preferred route
"On average we buy eight or nine vans through these sales every two months," he reports. Marchant prefers purchasing light commercials through this route rather than at open auctions that allow everyone present to bid. "That's because I know that I won't end up with something that has no
service history, one key, and with a load area that's had a couple of tons of concrete mixed in it," he observes. By contrast, anything that is being disposed of by Citroen Contract Motoring, Citroen's in-house finance operation, is sure to have a dependable pedigree, he says.
He is conscious that the plumbers, plasterers, carpenters and so on who typically buy used vans are usually busy from Monday to Friday, so don't always have time to visit a dealership. As a consequence, the used van sales operation is open six days a week — an approach that works well for the dealership. "We sell a van every Saturday," says Marchant.
Citroen recently extended its Select Approved Used Vehicle programme — a programme Marchant supports — to embrace light commercials up to 10 years' old or that have covered up to 100,000 miles: whichever comes first.
Crayford Motors promotes its activities in the light commercial market energetically. "For example, we've forged close links with Kent Invicta Chamber of Commerce and we recently attended a business-to-business event it held in Gravesend," he says.
"Over 50 local firms were present. Our website is constantly updated, we run a big email campaign every month, and we regularly take a halfor full-page advertisement in the Bexley Times, which works well for us."
One thing the dealership does not use is local radio, says Marchant, because it involves too much of a scattergun approach. It is heard by anybody and everybody, as well as the audience Crayford is trying to target, and that means too much wastage. People who buy used vans are potential aftersales customers too, but might think that having their purchases maintained by a franchised dealer will cost them too much money. As a consequence, Crayford offers attractively priced servicing plans in a bid to maintain their loyalty — and is always conscious that today's used buyer can be tomorrow's proud owner of a small fleet of new vans. •