Get ready to pay more for an old van
12th December 2013
Page 11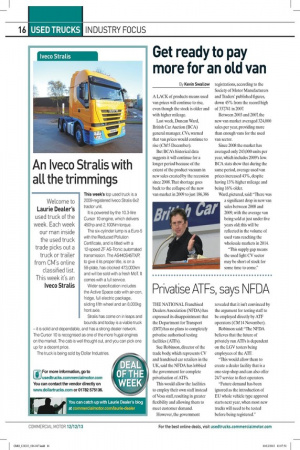 Page 11, 12th December 2013 —
Get ready to pay more for an old van
Close
By Kevin Swallow
A LACK of products means used van prices will continue to rise, even though the stock is older and with higher mileage.
Last week, Duncan Ward, British Car Auction (BCA) general manager, CVs, warned that van prices would continue to rise (CM 5 December). But BCA's historical data suggests it will continue for a longer period because of the extent of the product vacuum in new sales created by the recession since 2008. That shortage goes back to the collapse of the new van market in 2009 to just 186,386
registrations, according to the Society of Motor Manufacturers and Traders' published figures, down 45% from the record high of 337,741 in 2007.
Between 2003 and 2007, the new van market averaged 324,000 sales per year, providing more than enough vans for the used van sector.
Since 2008 the market has averaged only 243,000 units per year, which includes 2009's low. BCA stats show that during the same period, average used van prices increased 43%, despite having 13% higher mileage and being 16% older. Ward, pictured, said: "There was
a significant drop in new van sales between 2008 and 2009, with the average van being sold at just under five years old; this will be reflected in the volume of used vans reaching the wholesale markets in 2014.
"This supply gap means the used light CV sector may be short of stock for some time to come."