Other Exhibits.
12th December 1907
Page 17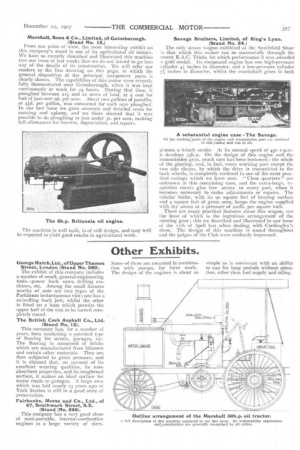 Page 18
Page 17, 12th December 1907 —
Other Exhibits.
Close
George Hatch, Ltd., of Upper Thames Street, London (Stand No. 280).
The exhibit of this company includes a number of small, general-engineering tools—power hack saws, drilling machines, etc. Among the small fixtures worthy of note are two types of the Parkinson instantaneous vice ; one has a swivelling back jaw, whilst the other is fitted on a base which permits the upper half of the vice to be turned completely round.
The British Cork Asphalt Co., Ltd. (Stand 'No. 15).
This company has, for a number of years, been marketing a patented type of flooring for streets, garages, etc. The flooring is composed of bricks which are manufactured from bitumen and certain other materials. They are then subjected to great pressure, and it is claimed that, on account of its excellent wearing qualities, its nonabsorbent properties, and its roughened surface, it makes an ideal surface for motor roads or garages. A large area which was laid nearly 53 years ago at York Station is still in a good state of preservation.
Fairbanks, Morse and Co., Ltd., of 67, Southwark Street, S.E. (Stand (No. 296).
This company has a very good show of semi-portable, internal-combustion engines in a large variety of sizes. Some of these are mounted in combination with pumps, for farm work. The design of the engines is about as
simple as is consistent with an ability to run for long periods without attention, other than fuel supply and oiling.
The Britannia Engineering Co., Ltd., of Colchester (Stand No. 17).
It was intended to exhibit two horizontal engines upon this stand, but the company found it inconvenient to do so, and the only example of this make is one of its E type, which gives out 6b.h.p. This engine will run equally well upon either ordinary paraffin, or crude oil, and it is fitted with Nichol son's patent vaporiser for which the company is the sole maker. The vaporiser is cast in one piece with the cylinder head, and it is claimed that it is very economical in work. The engine is a suitable. type for garage Owners, and others who have a small plant. Other sizes are listed up to 7ob.h.p.
The Campbell Gas Engine Co., Ltd., of Halifax (Stand No. 15).
The engines made by this company are well known, and the selection on view includes a" Samson " oil engine of 60.p. which would be a useful prime mover for a small garage; it is sold at L72. The " Samson " class of engine is built on similar lines to the " Campbell " type, and such engines run at the relatively low speeds of from 450 to 600 r.p.m. according to the size. Special attention has been paid to the governor, so that the consumption of oil is reduced to a minimum. The exhibit includes a combined engine and pumping plant, and a gas engine with its producer plant.
Messrs. C. F. Wilson and Co., of 34, Fenchurch Street, London, E.C. (Stand No. 31).
Two horitontal engines are shown on this stand, and the larger of these gives out 4.;b.h.p. The features of the Wilson engine are the simplicity of its design and the accessibility of all movingparts. It is designed to run upon " Rock Light " oil, and, although the oil tank fitted La the engine under notice holds only abont i gallon of oil, any size of fuel tank can be supplied to order. The material and workmanship are good, and the engine complete, and in working order, is listed at
The same type of engine is manufactured up to 35b.b.p., the larger sizes being fitted with a governor of the Porter type.
Fastnut, Ltd., of 60, Aldermanbury, London (Stand No. 6, North Gallery Annexe).
Fastnut, Ltd., has a well-stocked stand showing the different applications of its patent washer. It is unnecessary for us to reiterate the good points of this accessory; these we have stated before in the pages of this journal. Recent orders include a large one from the Cunard Steamship Company. A new washer is now being supplied for use with set screws; this is very similar to the standard type, but, instead of the usual three projections which are forced between the bolt threads, the new pattern has a small conical point which projects at right angles to the under side of the washer, so that, when the set screw is tightened up, the point is forced into the metal of the gear-box, or other part, and the usual side springs clip the hexagon head of the screw securely,
W. H. Wilcox and Co., Ltd., of 23, Southwark Street, S.E. (Stands No. 216 and 266.) One of the newest of this Company's many novelties is the triple-action, Willcox-Turner pump, which is made in suitable form for operation by hand or mechanical power. We give two views of this pump. The sectional view shows the details of its construction, and it will be seen that there are two pistons, three suction valves, and
three delivery valves. In the hand pump, the two pistons are drawn apart, or driven inwards to the centre of the barrel, by means of two, cranked, connecting rods, which, in turn, are actuated by a hand lever that is pivoted on the side of the pump body_ When the pistons are drawn apart, water is sucked into the cylinder through the centre one of the three, suction, " flap " valves and, when the pistons are driven back to the position shown, the water is forced out through the centre one of the three delivery valves. While the water contained in the space between the two pistons is being, driven nut, the two spaces at theouter sides of the pistons are being filled with water through the two outer, suction valves. It will be seen, therefore, that there is absolutely no lost motion and that a full and equal delivery of water takes place on both forward and backward motion of the handle. The cylinders are brass lined, so that no trouble need be anticipated through rusting, and the consequent tearing of the leather cup rings with which the pistons are fitted. Another point of importance is the fact that the valve plates and valves are self-contained, and may easily be replaced by any unskilled man in case of necessity. This pump, if used in conjunction with a foot valve, can lift water or paraffin from a depth of 25 feet, and it is then capable of forcing it to a height of foo feet; it should, therefore, be found most useful in medium-size, motor vehicle depots for liftin.g water or liquid' fuel from low-level to high-level storage tanks.
A new pattern, special, high-pressure, Penberthy injector is also shown on this company's stands. This pattern, although not differing in principle from earlier models, is made mueh stronger, and all the unions and connections are inade suitable for high, steam pressures. Amongst other exhibits are the well-known, Willcox, semi-rotary, lift pump, and, of course, this company's wire-bound, canvas hose suitable for steam wagon or tractor work; this hose will stand a lot of hard work, and is the best that can be obtained for this
as it is practically imperishable and will not kink.