THE COMMERCIAL TRAVELLER'S VEHICLE.
12th August 1919
Page 21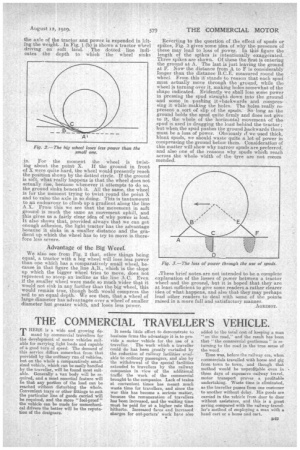 Page 21, 12th August 1919 —
THE COMMERCIAL TRAVELLER'S VEHICLE.
Close
THERE is a wide and growing demand by commercial traVellers for the development of motor vehicles suitable for oarrying light loads and capable of a good turn of speed. The demand of this service differs somewhat from that provide by the ordinary run of vehicles, but on the whole a comparatively smallsized vehicle, which can be easily handled by the traveller, will be found most suitable. Generally a van body will he required, and a most essential feature will be that any portion of the load can be reached without disturbing the whole. Convenient trays or other fittings to suit the particular line of goods carried will be required, and the more " fool-proof " the vehicle can be made for unmechanical drivers the better will be the reputation of the designers.
It needs little effort to demonstrate to business firms the advantage it is to pro
vide motor vehicle for the use of a traveller. The work which a traveller could do has been greatly -curtailed by the reduction of railway facilities available to ordinary passengers, and also by the withdrawal of the special facilities extended to travellers by the railway companies in view of the additional traffic the work of the commercial brought to the companies. Lack of trains at convenient times has meant much waste time for travellers, and since the war this has become a serious matter, because the remuneration of travellers has been increased, and the waiting time must be paid for at a higher rate than hitherto. Increased fares and increased charges for out-porters' work have also added to the total cost of keeping a man "on the road," and the result has been that the commercial gentleman" is returning to the road in the true sense of the word.
Time was, before the railway era, when commercials travelled with horse and gig from town to town, and though that method would be unprofitable even in these days of expensive railway travel, motor transport proves a profitable undertaking. Waste time is eliminated, as the traveller passes from one customer to another without delay. His goods are carried in the vehicle from door to door without assistance, and this is a great saving compared with the railway-traveller's method of employing a man with a hand cart or a horse and cart.