Flexibility and Economy in Group Transport
12th April 1957
Page 45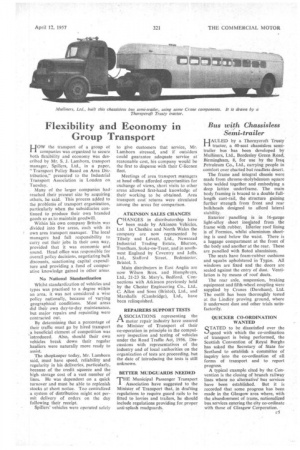 Page 45, 12th April 1957 —
Flexibility and Economy in Group Transport
Close
HOW the transport of a group of companies was organized to secure both flexibility and economy was described by Mr. S. J. Lamborn, transport manager, Spillers, Ltd., in a paper, Transport Policy Based on Area Distribution," presented to the Industrial Transport Association in London on Tuesday. Manyof the larger companies had reached their present size by acquiring others, he said. This process added to the problems of transport organization, particularly when the subsidiaries continued to produce their own branded goods so as to maintain goodwill.
Within his own company Britain was divided into five areas, each with its own area transport manager. The local managers had full responsibility to carry out their jobs in their own way, provided that it was economic and sound. Head office was responsible for Overall policy decisions, negotiating bulk discounts, sanctioning capital expenditure and providing a fund of comparative knowledge gained in other areas.
No National Standardization
Whilst standardization of vehicles and types was practised to a degree within an area, it was not considered a wise policy nationally, because of varying geographical conditions. Most areas did their own day-to-day maintenance, but major repairs and repainting were contracted out.
By determining that a percentage of their traffic must go by hired transport a beneficial element of competition was introduced. Also, should their own vehicles break down their regular hauliers were naturally more ready to assist.
The shopkeeper today, Mr. Lamborn said, must have speed, reliability and regularity in his deliveries, particularly, because of the credit squeeze and the highstorage cost of a vast number of lines. He was dependent on a quick turnover and must be able to replenish stocks at short notice. Too centralized a system of distribution might not permit delivery of orders on the day following their receipt.
Spillers' vehicles were operated solely to give customers that service, Mr. Lam born stressed, and if outsiders could guarantee adequate service at reasonable cost, his company would be the first to dispense with their C-licence fleet.
Meetings of area transport managers at head office afforded opportunities for exchange of views, short visits to other areas allowed first-hand knowledge of their working to be obtained. Area transport cost returns were circulated among the areas for comparison.
ATKINSON SALES CHANGES rITANGES in distributorship have been made by Atkinson Vehicles, Ltd. In Cheshire and North Wales the company are now represented by Tilsely and Lovatt, Ltd., Newstead Industrial Trading Estate, Blurton, Trentham, Stoke-on-Trent, and in southwest England by Coventry and Jeffs, Ltd., Stafford Street, Bedminster, Bristol, 3.
Main distributors in East Anglia are now Wilson Bros. and Humphreys, Ltd., 21-23 St. Mary's, Bedford. Connections with Atkinson previously held by the Chester Engineering Co., Ltd., C. Allen and Sons (Bristol), Ltd., and Marshalls (Cambridge), Ltd., have been relinquished.
REPAIRERS SUPPORT TESTS
ASSOCIATIONS representing the r-1. motor repair industry have assured the Minister of Transport of their co-operation in principle in the compulsory inspection and testing of vehicles under the Road Traffic Act, 1956. Discussions with representatives of the industry and of local authorities on the organization of tests are proceeding, but the date of introducing the tests is still unknown.
BETTER MUDGUARDS NEEDED
THE Municipal Passenger Transport Association have suggested to the Minister of Transport that, in drafting regulations to require guard rails to be fitted to lorries and trailers, he should include regulations providing for proper anti-splash mudguards.