"Drinkers Will Clutter Up Roads "
12th April 1957
Page 44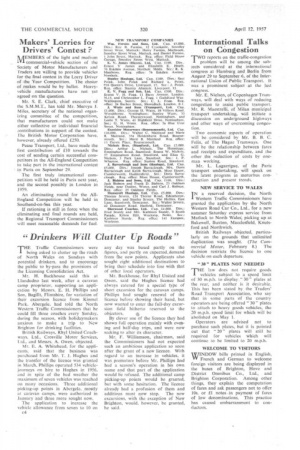 Page 44, 12th April 1957 —
"Drinkers Will Clutter Up Roads "
Close
THE Traffic Commissioners were being asked to clutter up the roads of North Wales on Sundays with potential drinkers, and to encourage the public to by-pass the provisions of the Licensing Consolidation Act.
Mr, H. Backhouse said this at Llandudno last week, after a caravan camp proprietor, supporting an application by Messrs. E. H. Phillips and Son, Bagillt, Flintshire, for variation of their excursion licence from Kinmel Park, Abergele, had told the North Western Traffic Commissioners that he could fill three coaches every Sunday, during the season, with holidaymakers anxious to make a trip to New Brighton for drinking facilities.
British Railways, Rhyl United Coachways, Ltd., Crosville Motor Services, Ltd., and Messrs, A. Owen, objected.
Mr. E. A. Whitehead, for the applicants, said that the business was purchased from Mr. T. J. Hughes and the transfer of the licence was granted in March. Phillips operated 534 vehiclejourneys on hire to Hughes in 1956, and in spite of the bad weather the maximum of seven vehicles was reached on many occasions. Three additional picking-tip points in Abergele, mostly at caravan camps, were authorized in January and three more sought now.
The application to increase the vehicle allowance from seven to 10 on
any day was based partly on the figures, and partly on expected_demand from he new points. Applicants also sought eight additional destinations to bring their schedule into line with that of other local operators.
Mr. Backhouse, for •Rhyl United and Owen, said the Hughes licence had always catered for a special type of short excursion for the caravan camps. Phillips had sought renewal of the licence before showing their hand, but SOW wanted to enter the full-day excursion field hitherto reserved to the
objectors. 4
By clever use of the licence they had shown full operation mainly with evening and half-day trips, and were now seeking to alter its character.
Mr. F. Williamson, chairman, said the Commissioners had not expected such an ambitious application so soon after the grant of a new licence. With regard to an increase in vehicles, it was premature before Mr. Phillips had had a season's operation in his own name and that part of the application would he refused. The additional camp picking-up points would be granted, but with some hesitation. The licence already had a profusion of them and additions must now stop. The new excursions, with the exception of New Brighton, would, however, be granted, he said.