P.T. to Come Off Goods Chassis ?
12th April 1957
Page 42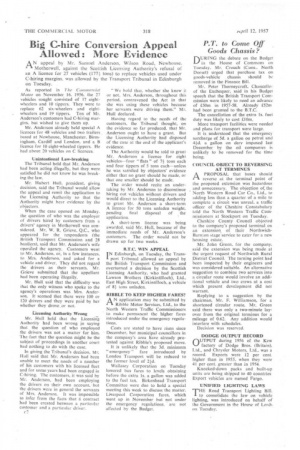 Page 42, 12th April 1957 —
P.T. to Come Off Goods Chassis ?
Close
nLIRING the debate on the Budget
in the House of Commons on Tuesday, Mr. Crouch (ConsNorth Dorset) urged that purchase tax on goods-vehicle chassis should be removed in the Finance Bill.
Mr. Peter Thorneycroft, Chancello: of the Exchequer, said in his Budget speech that the British Transport Commission were likely to need an advance of £50m in 1957-58. Already £52m had been granted to the B.T.C.
The cancellation of the extra Is. fuel duty was likely to cost £10m.
More transport facilities were needed and plans for transport were large.
It is understood that the emergency surcharge of 5d. a gallon on petrol and 44d. a gallon on dery imposed last December by the oil companies is unlikely to be removed for the time being.
COUNCIL OBJECT TO REVERSING AT TERMINUS
APROPOSAL that buses should reverse at the terminal point of the proposed extension was hazardous and unnecessary. The objection of, the North Western Road Car Co., Ltd., to adding less than a quarter of a mile to complete a circuit was unreal, a traffic officer of the Cheshire Constabulary told the North Western Traffic Commissioners at Stockport on Tuesday.
Cheshire County Council objected to the company's proposed terminal on an extension. of their NorthwichBarnton stage service to cater for a new housing estate.
Mr. John Green, for the company. said the extension was being made at the urgent request of Northwich Rural District Council. The turning point had been inspected by their engineers and was considered suitable. An alternative suggestion to combine two services into a circular route would involve an additional vehicle and two crews at a cost which present development did not wa rant.
Replying to a suggestion by the chairman, Mr. F. Williamson, for a shortened circular route, Mr. Green said there was only a two-minute layover from the original terminus for a mileage of 0.62. Any addition would interfere with schedules.
Decision was reserved.
DODGE OUTPUT RECORD
OUTPUT during 1956 of the Kew factory of Dodge Bros. (Britain), Ltd., and Chrysler Motors, Ltd" was a record. Exports were 12 per cent. higher than in 1955, when they were 41 per cent, greater than in 1954.
Knocked-down packs and built-up units are being shipped to 40 countries Export vehicles are named Fargo.
UNIFIED LIGHTING LAWS
THE Road Transport Lighting Bill. to consolidate the law on vehicle lighting, was introduced on behalf of the Government in the House of Lords on Tuesday,