Fare Cut Would be Serious A T a time of generally
12th April 1957
Page 40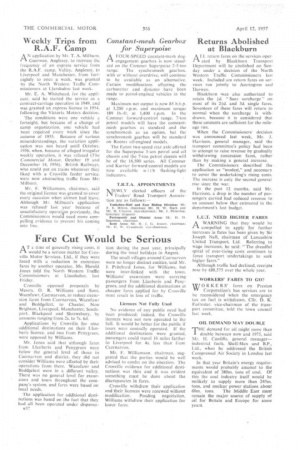 Page 40, 12th April 1957 —
Fare Cut Would be Serious A T a time of generally
Close
rising costs, it would be a serious matter for Crosville Motor Services. Ltd., if they were faced with a reduction in excursion fares by another operator, Mr. I4arold Jones told the North Western Traffic Commissioners at Llandudno, last Friday.
Crosville opposed proposals by Messrs. 0. R. Williams and Sons, Wacnfawr, Caernarvon, to reduce excursion fares from Caernarvon, Waenfawr and Beddgclert, to Chester, New Brighton, Liverpool, Manchester, Southport, Blackpool and Shrewsbury, by amounts ranging from 2s. to 7s. 6d.
Applications by Crosville for nine additional destinations on their Elanhens licence, and two from Penygrocs. were opposed. by Williams.
Mr. Jones said that although fares from Llanberis and Penygroes were below the general level of those in Caernarvon and district, they did not consider Williams were affected by their operations from there, Waenfawr and Beddgelert were in a different valley. There was no general level for excursions and tours throughout the company's system, and fares were based on local needs.
The application for additional destinations was based on the fact that they had all been operated under dispensa n32 tion during the past year, principally during the local holidays in August.
The small villages around Caernarvon were no longer distinct entities, said Mr. J. Pritchard Jones. for Williams, hut were inter-linked with the town. Williams' excursions were carrying passengers from Llanberis and Penygroes, and the additional destinations at cheaper fares applied for by Crosville must result in loss of traffic.
Licences Not Fully Used
No evidence of any public need had been produced; indeed, the Crowille licences were riot now operated to the full. It would be better for the public if tours were centrally operated. If the additional destinations were granted, passengers could travel 16 miles farther to Liverpool for 4s. less than from Caernarvon.
Mr. F. Williamson, chairman, suggested that the parties would be well advised to confer on the situation. The Crosville evidence for additional destinations was thin and it was evident something must be done about the discrepancies its fares.
Crosville withdrew their application and their licences were renewed without modification. Pending negotiation, Williams withdrew their application for lower fares.