&HA to Win Back Traffic
12th April 1957
Page 39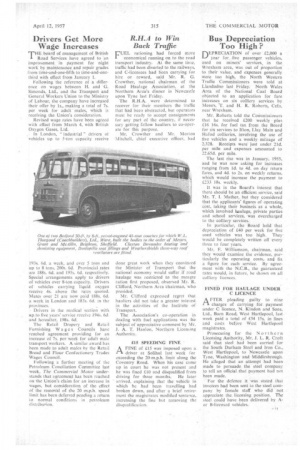 Page 39, 12th April 1957 —
&HA to Win Back Traffic
Close
Ft.JEL rationing had forced more economical running on to the read transport industry. At the same time, traffic had been diverted to the railways, and C-licensees had been carrying for hire or reward, said Mr. R. G. Crowther, national chairman of the Road Haulage Association, at the Northern Area's dinner in Newcastle upon Tyne last Friday.
The R.H.A. were determined to recover for their members the traffic that had been abstracted, but operators must be ready to accept consignments for any part of the country, if necessary getting fellow hauliers to co-operate for this purpose.
Mr. Crowther and Mr. Morton Mitchell, chief executive officer, had done great work when they convinced the Minister of Transport that the national economy would suffer if road haulage was restricted to the meagre ration first proposed, observed Mr. R. Clifford, Northern Area chairman, who presided.
Mr. Clifford expressed regret that hauliers did not take a greater intel est in the activities of the Institute of Transport.
The Association's co-operation in dealing with fuel applications Was the subject of appreciative comment by Mr. J. A. T. Hanlon, Northern Licensing Authority.
i15 SPEEDING FINE
AFINE of £15 was imposed upon a driver at Solihul last week for exceeding the 20-mph. limit along the Coventry Road. When his case came up in court he was not present and he was fined £10 and disqualified from driving for three months. He later arrived, explaining that the vehicle in which he had been travelling had broken down, and after a brief retirement the magistrates modified sentence, increasing the fine but removing the disq ual ideation.