"For. What Shall It Profit . . 15 D URING the
12th April 1957
Page 33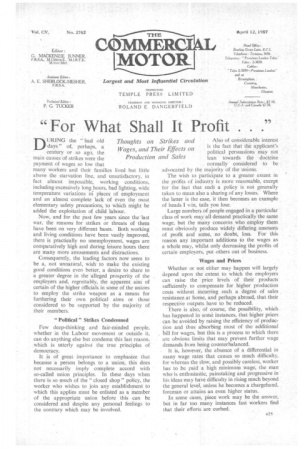 Page 33, 12th April 1957 —
"For. What Shall It Profit . . 15 D URING the
Close
bad old days" of, perhaps, a century or so ago, the main causes of strikes were the payment of wages so low that many workers and their families lived but little above the starvation line, and unsatisfactory, in fact almost impossible, working conditions, including excessively long hours, bad lighting, wide temperature variations in places of employment and an almost complete lack of even the most elementary safety precautions, to which might be added the exploitation of child labour.
Now, and for the Past few years since the last war, the reasons for strikes or threats of them have been on very different bases. Both working and living conditions have been vastly improved, there is practically no unemployment, wages are comparatively high and during leisure hours there are many more amusements and distractions.
Consequently, the leading factors now seem to be a, not unnatural, wish to make the existing good conditions even better, a desire to share to a greater degree in the 'alleged prosperity of the employers and, regrettably, the apparent aim of certain of the higher officials in some of the unions to employ the strike weapon as a means for furthering their own political aims or those considered to be supported by the majority of their members.
"Political" Strikes Condemned Few deep-thinking and fair-minded people, whether in the Labour movement or outside it, can do anything else but condemn this last reason, which is utterly against the true principles of democracy.
It is of great importance 10 emphasize that because a person belongs to a union, this does not necessarily imply complete accord with so-called union principles. In these days when there is so much of the "closed shop" policy, the worker who wishes to join any establishment to which this applies must be enlisted as a member of the appropriate union before this can be considered and despite any personal feelings to the contrary which may be involved. Also of considerable interest is the fact that the applicant's political persuasions may not lean towards the doctrine normally considered to be advocated by the majority of the unions.
The wish to participate to a greater extent in the profits of industry is more reasonable, except for the fact that such a policy is not generally taken to Mean also a sharing of any losses. Where the latter is the case, it then becomes an example of heads I win, tails you lose.
Large numbers of people engaged in a particular class of work may all demand practically the same wage, but the many concerns who employ them must obviously produce widely differing amounts of profit and some, no doubt, loss. For this reason any important additions to the wages as a whole may, whilst only decreasing the profits of certain employers, put. others out of business.
Wages and Prices Whether or not either may happen will largely depend upon the extent to which the employers can raise the price levels of their products sufficiently to compensate for higher production costs Without, incurring such a degree of sales resistance, at home, and perhaps abroad, that their respective outputs have to be reduced.
There is also, of course, the possibility, which has happened in some instances, that higher prices can be avoided by raising the efficiency of production and thus absorbing most of the• additional bill for wages, but this is a process to which there are obvious limits that may prevent further wage demands from being counterbalanced.
It is, however, the absence of a differential in many wage rates that causes so much difficulty, for whereas the slow, and possibly careless, worker has to be paid a high minimum wage, the man who is enthusiastic, painstaking and progressive in his ideas may have difficulty in rising much beyond the general level, unless he becomes a chargehand, foreman or attains an even higher status.
In some cases, piece work may be the answer, but in far too many instances fast workers find that their efforts are curbed.