BASES OF NORTHERN IRELAND BUS FARES DECIDED
12th April 1932
Page 56
Page 57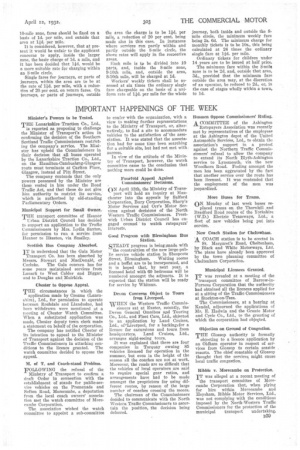 Page 56, 12th April 1932 —
BASES OF NORTHERN IRELAND BUS FARES DECIDED
Close
Important Decisions by the Tribunal. Two Zones to be Established MHE decisions of the Northern Ireland This Fares Tribunal, on the general principles arising from applications by three bus-operating companies for the revision of fares, have been announced by Sir Lynden Macassey, the chairman. In certain areas, reductions In fares will result, whilst in others the B38
new schedules will involve increases. It is proposed to set up two zones for fares, one being bounded by a circle
drawn at a radius of 8 miles from the centre of the City Hall, Belfast, and the other covering all services outside that area.
The tribunal has decided to adopt the principle of the recommendation by Mr. Frank Pick, of the London Underground group, that within the Belfast 10-mile zone, fares should be fixed on a basis of id. per mile, and outside that area at lid. per mile.
It is considered, however, that at present it would be unfair to the applicant concerns to apply, inside the larger zone, the basic charge of id. a mile, and it has been decided that lid, would be a more suitable rate for charging within an 8-mile circle.
Single fares for journeys, or parts of journeys, within the area are to be at the rate of lid. per mile, with a reduction of 20 per cent. on return fares. On journeys, or parts of journeys, outside the area the charge is to be lid, per mile, a reduction of 20 per cent, being made also in this case. In instances where services run partly within and partly outside the 8-mile circle, the above rates will apply in the respective areas.
Each mile is to be divided into 10 parts, and, inside the 8-mile zone, 9-10th mile, and, outside the area, 8-10th mile, will be charged at id.
Workers' weekly tickets shall be assessed at six times the ordinary single fare chargeable on the basis of a uniform rate of lid, per mile for the whole journey, both inside and outside the 8mile circle, the minimum weekly fare being 2s. 6d. The minimum charge for monthly tickets is to be 10s., this being calculated at 24 times the ordinary single fare at lid, per mile.
Ordinary tickets for children under 14 years are to be issued at half price.
The minimum fare within the 8-mile zone is to be 2d. and, outside that area, 3d.,, provided that the minimum fare outside the area may, at the discretion of an operator, be reduced to 2d., or, in the case of stages wholly within a town, to id.