What is
12th April 1932
Page 54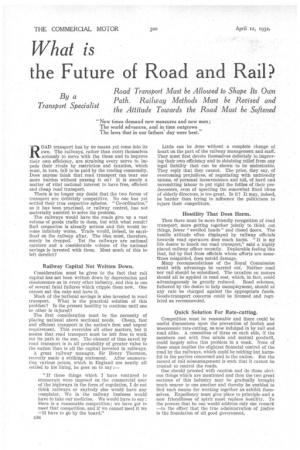 Page 54, 12th April 1932 —
What is
Close
the Future of Road and Rail?
Road Transport Must be Allowed to Shape Its Own Path. Railway Methods Must be Revised and the Attitude Towards the Road Must be Softened By a Transport Specialist
ROAD transport has by no means yet come into its own. The railways, rather than exert themselves seriously to move with the times and to improve their own efficiency, are straining every nerve to impede their rivals by restriction and taxation, which must, in turn, fall to be paid by the trading community. Does anyone think that road transport can bear one more burden without passing it on? It is surely a matter of vital national interest to have free, efficient and cheap road transport.
There is no longer any doubt that the two forms of transport are definitely competitive. No one has yet settled their true respective spheres. " Co-ordination," as it has been practised, or railway control, has not materially assisted to solve the problem.
The railways would have the roads give up a vast volume of goods traffic to them, but with what result? Rail congestion is already serious and this would become infinitely worse. Trade would, indeed, be sacrificed on the railway altar. The idea must, therefore, surely be dropped. Yet the railways are national carriers and a considerable volume of the national savings is invested with them. Must much of this be left derelict?
Railway Capital Not Written Down.
Consideration must be given to the fact that rail capital has not been written down by depreciation and obsolescence as in every other industry, and this is one of several fatal failures which cripple them now. One cannot eat the cake and have it.
Much of the national savings is also invested in road transport. What is the practical solution of this problem'? Is the present hostility to continue until one or other is injured?
The first consideration must be the necessity of placing national above sectional needs. Cheap, fast and efficient transport is the nation's first and urgent requirement. This overrides all other matters, but it means that road transport must be left free to work out its path in the sun. The element of time saved by road transport is in all probability of greater value to the nation than is all the capital invested in railways.
A great railway' manager, Sir Henry Thornton, recently made a striking statement. After enumerating various points, which in England are nearly all settled to his liking, he goes on to say :— " If these things which I have ventured to enumerate were imposed on the commercial user of the highways in the form of regulation, I do not think railways or anybody else would have any complaint. We in the railway business would have to take our medicine. We would have to say : Here is a reasonable competition ; we have got to meet that competition, and if we cannot meet it we will have to go by the board."
n36 Little can be done without a complete change of heart on the part of the railway management and staff. They must first devote themselves definitely to improving their own efficiency and to obtaining relief from any legal liability that can be shown to be undesirable. They reply that they cannot. The price, they say, of overcoming prejudices, of negotiating with unfriendly unions, of personal inconvenience and toil, of hard and unremitting labour to put right the follies of their predecessors, even of upsetting the somewhat fixed ideas of elderly directors, is too great. Is it? It may, indeed, be harder than trying to influence the politicians to injure their competitors.
Hostility That Does Harm.
Then there must be more friendly recognition of road transport, more getting together jointly to think out things, fewer " swelled heads" and closed doors. The hostile attitude often displayed by railway officials towards road operators does much harm. "It is my life desire to knock out road transport," said a highly placed railway officer recently. Deplorable feeling like that, fed by fuel from officials whose efforts are sometimes misguided, does untold damage, Many recommendations of the Royal Commission could with advantage be carried out. Neither road nor rail should be subsidized. The taxation on motors should all be applied to road cost, which, in fact, could advantageously be greatly reduced. Road schemes, fathered by the desire to help unemployment, should at any rate be charged against the appropriate funds. Goods-transport concerns could be licensed and regulated as recommended.
Quick Solution For Rate-cutting.
Competition must be reasonable and there could be useful discussions upon the prevention of foolish and uneconomic rate-cutting, as now indulged in by rail and road alike. A. committee of three on each side, if the members met with free minds and mutual goodwill, could largely solve this problem in a week. None of these steps implies the slightest financial control of the road by the railways, which could be nothing but harmful to the parties concerned and to the nation. But the record of rail mismanagement is such that it cannot be trusted to control the roads.
One should proceed with caution and do those obvious things which are mentioned and then the two great sections of this industry may be gradually brought much nearer to one another and thereby be enabled to find such means for working together as exhibit themselves. Expediency must give place to principle and a new friendliness of spirit must replace hostility. To the powers that be one would address only one remark —to the effect that the true administration of justice is the foundation of all good government.