• B.T.H. Profits.
12th April 1932
Page 42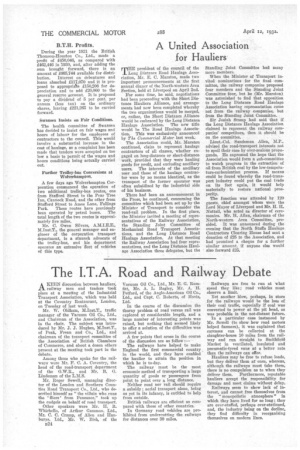 Page 42, 12th April 1932 —
• B.T.H. Profits.
Close
During the year 1931 the British Thomson-Houston Co., Ltd., made a profit of £450,046, as compared with £462,446 in 1930, and, after adding the sum brought forward, there is an amount of £665,744 available for distri bution. Interest on debentures and loans absorbed £117,070 and it is proposed to appropriate £150,208 for depreciation and to add £20,000 to the general reserve account It is proposed to pay a dividend of 5 per cent. per annum (less tax) on the ordinary shares, leaving £221,265 to be carried forward.
Swansea Insists on Fair Conditions.
The health committee of Swansea has decided to insist on fair wages and hours of labour for the employees of contractors to the council. This would involve a substantial increase in the cost of haulage, as a complaint has been made that tenders were accepted on too low a basis to permit of the wages and hours conditions being actually carried out.
Further Trolley-bus Conversions at Wolverhampton.
A few days ago Wolverhampton Corporation commenced the operation of two additional trolley-bus routes, one from Stafford Street to the Pear Tree Inn, Cannock Road, and the other from Stafford Street to Amos Lane, Fallings Park. These routes have previously been operated by petrol buses. The total length of the two routes is approxiraately five miles.
Mr. C. Owen Silvers, A.M.I.E.E., M.Inst.T., the general manager and engineer of the corporation transport department, is a staunch advocate of the trolley-bus, and his department operates an extensive fleet of vehicles of this type.