Promising Attempt to Solve Dazzle Problem
11th September 1936
Page 45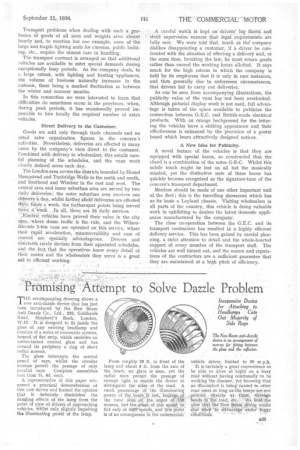 Page 45, 11th September 1936 —
Promising Attempt to Solve Dazzle Problem
Close
Inexpensive Device for Attaching to Headlamp; Cuts Out Majority of Side Rays THE accompanying drawing shows a new anti-dazzle device that has just been introduced by the New Beam Anti-Dazzle Co., Ltd., 232, Goldhawk Road, Shepherd's Bush, London, W,12, It is designed to fit inside the glass of any existing headlamp and consists of a series of concentric screens, formed of flat strip, which encircles an amber-tinted central glass and has around its periphery a ring of short radial screens.
The glass intercepts the central pencil of rays, whilst the circular screensi permit the passage of only parallel rays. Complete assemblies cost from 7s. 6d. each.
A representative of this paper witnessed a practical demonstration of this new device and 'formed the opinion Apt. it definitely diminishes the dazztling _effects a the lamp from the point of view of drivers of approaching vehicles, iVIfilst only slightly impairing ths illuminating powelt 'of the lamP. From roughly 25 ft. in front of the lamp and about 5 ft. from the axis of the beam, no glare is seen, yet the radial slats permit the passage of enough light to enable the driver to distinguish the sides of the road. A small percentage Of 'the illuminating power of the_bearn:iis lost, becliiie nJ the total area, of the edges of ; screens, but tlie..-effect of this woald bé!• felt only at ffiflispeeds and this Point Is of no consequence to the commercial-'
vehicle driver, limited to 30 m.p.h.
It is certainly a great convenience to be able to drive at night on a busy road without having Continually to be working -the dimmer; yet knowing that no discOmfort is being caused to other road users so long as the lamps are not pointed directly at them, thicragh bends road; &c.We hold the view that the New Beam device would rhso to idY'afititel under foggy condi ons.