Trailers for Light Loads and Farm Stock.
11th September 1928
Page 28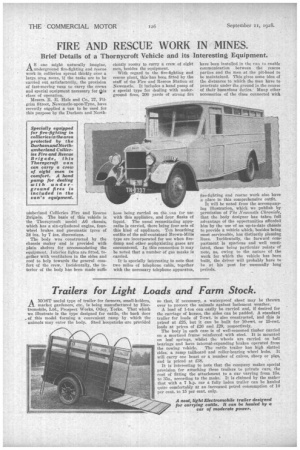 Page 28, 11th September 1928 —
Trailers for Light Loads and Farm Stock.
Close
A MOST useful type of trailer for farmers, small-holders. 21 market gardeners, etc., is being manufactured by Eketromobile, Ltd., Prospect Works, Otley, -Yorks. That which we illustrate is the type designed for cattle, the back door of this model forming a convenient ramp by which the animals may enter the body. Steel hoopsticks are provided
so that, if necessary, a waterproof sheet may be thrown over to protect the animals against inclement weather.
A load of 1-ton can easily be carried and, if desired for the carriage of horses, the sides can be padded. A standard trailer for loads of 7-cwt. is also constructed, and this is priced at 125, but it can be built for 10-cwt. or 15-cwt. loads at prices of £26 and 129, respectively.
The body in each case is of well-seasoned timber carried on a morticed frame reinforeed with steel. It is mounted on leaf springs, whilst the wheels are carried on ball bearings and have internal-expanding brakes operated from the towing vehicle. The cattle trailer has high slatted sides, a ramp tailboard and roller-bearing wheel hubs. It will carry one beast or a number of calves, sheep or pigs, and is priced at 138.
It is interesting to note that the company makes special provision for attaching these trailers to private cars, the cost of fitting the attachment to a car varying from 15s. to :35a., according to the make. It is claimed by the maker that with a 7 h.p. car a fully laden trailer can be hauled quite comfortably at an increased petrol consumption of 10 per cent. to 15 per cent. only.