FIRE AND RESCUE WORK IN MINES.
11th September 1928
Page 28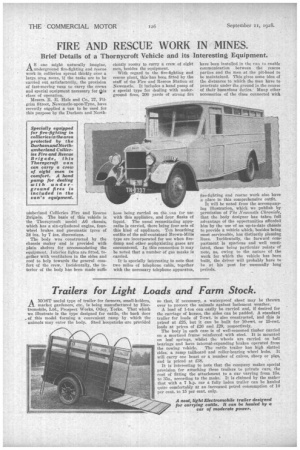 Page 28, 11th September 1928 —
FIRE AND RESCUE WORK IN MINES.
Close
Brief Details of a Thornycroft Vehicle and its Interesting Equipment.
AS one might naturally imagine, underground fire-fighting and rescue work in collieries spread thickly over a large area mean, if the tasks are to be carried out satisfactorily, the provision of fast-moving vans to carry the crews and special equipment necessary for is class of operation.
Messrs. R. E. Hale and Co., 27, Pilgrim Street, Newcastle-upon-Tyne, have recently supplied a van to be used for this purpose by the Durham and North
uinberland Collieries Fire and Rescue Brigade. The basis of this vehicle is the Thornycroft model A6 chassis, which has a six-cylindered engine, fourwheel brakes and pneumatic tyres of 34 ins. by 7 ins. dimensions.
The body was constructed by the chassis maker and is provided with plain shelves for accommodating the equipment. Interior lights are fitted, together with ventilators in the sides and roof to help towards the general comfort of the crew. Incidentally, the interior of the body has been made -suffi
eiently roomy to carry a crew of eight men, besides the equipment.
With regard to the fire-fighting and rescue plant, thishas been fitted by the staff of the Fire and Rescue Station at Newcastle. It includes a hand pump of a special type for dealing with underground fires, 200 yards of strong fire
hose being carried on the vim for use with this appliance, and four flasks of liquid. The usual resuscitating apparatus is carried, there being four sets of this kind of appliance. Ten breathing outfits of the self-contained Brown-Mills type are incorporated for use when firedamp and other asphyxiating gases are encountered. In this connection it may be noted that a number of gas masks is carried.
It is specially interesting to note that two miles of telephone cable, together with the necessary telephone apparatus,
have been installed in the van to enable. communication between the rescue parties and the men at the pit-head to be maintained. This gives some idea of the distances to which the men have to penetrate under the ground in the course of their hazardous duties. Many other
• accessories of the class connected with fire-fighting and rescue work also have a place in this comprehensive outfit.
It will be noted from the accompanying illustration which we publish by permission of The Newcastle Chronicle, that the body designer has taken full advantage of the opportunities afforded him by the use of an up-to-date chassis to provide a vehicle which, besides being most serviceable, has distinctly pleasing lines. Incidentally, the forward compartment is spacious and well ventilated, these being particular points of note, as, owing to the nature of the work for which the vehicle has been built, the driver will probably have to be at his post for unusually long periods.