Another Low-loading Refuse Collector.
11th September 1928
Page 10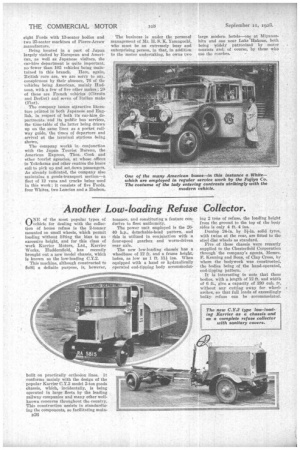 Page 10, 11th September 1928 —
Another Low-loading Refuse Collector.
Close
ONE of the most popular types of vehicle for dealing with the collection of house refuse is the 2-tonner mounted on small wheels, which permit loading without lifting the bins to an excessive height, and for this class of work Karrier Motors, Ltd., Karrier Works, Huddersfield, has recently brought out a new model chassis, which is known as the low-loading C.Y.2.
This machine, although constructed to fulfil a definite purpose, is, however,
tenance, and constituting a feature conducive to fleet uniformity.
The power unit employed is the 2U40 h.p., detachable-head pattern, and this is utilized in conjunction with a four-speed gearbox and worm-driven rear axle.
The new low-loading chassis has a wheelbase of 12 ft. and a frame height,. laden, as low as 1 ft. 11i ins. When equipped with a hand or hydraulically operated end-tipping body accomModat
ing 2 tons of refuse, the loading height from the ground to the top of the body sides is only 4 ft. 4 ins.
Dunlop 24-in. by 3i-in. solid tyres, with twins at the rear, are fitted to the steel disc wheels as standard.
Five of these chassis were recently supplied to the Chesterfield Corporation through the company's agents, Messrs. F. Kenning and Sons' of Clay Cross, by whom the bodywork was constructed, the bodies being of the hand-operated, end-tipping pattern.
It is interesting to note that these bodies, with a length of 12 ft. and width of 6 ft., give a capacity of 190 cub. fr. without any cutting away for wheelarches, so that full loads of exceedingly bulky refuse can be accommodated.