New Iamb ban bid
11th October 1990
Page 6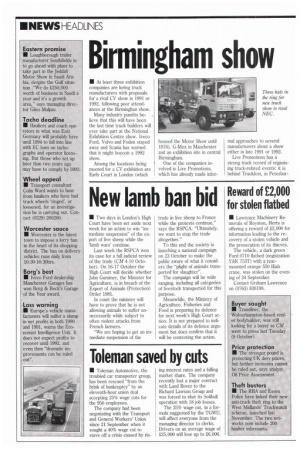 Page 6, 11th October 1990 —
New Iamb ban bid
Close
Keywords :
Zoology
,
Meat Industry
,
Sheep
,
Royal Society For The Prevention Of Cruelty To Animals
,
Livestock
,
John Gummer, Baron Deben
,
Government Of The United Kingdom
,
Biology
,
Animal Rights Movement
,
Battle Of Brightlingsea
,
Environment
• Two days in London's High Court have been set aside next week for an action to win "immediate suspension" of the export of live sheep while the 'lamb wars' continue.
Last week the RSPCA won its case for a full judicial review of the trade (CM 4-10 October). On 16-17 October the High Court will decide whether John Gummer, the Minister for Agriculture, is in breach of the Export of Animals (Protection) Order 1981.
In court the minister will have to prove that he is not allowing animals to suffer unnecessarily while subject to often violent attacks from French farmers.
"We are hoping to get an immediate suspension of the trade in live sheep to France while the protests continue," says the RSPCA. "Ultimately, we want to stop the trade altogether." To this end the society is launching a national campaign on 23 October to make the public aware of what it considers the "plight of animals transported for slaughter". The campaign will be wide ranging, including all categories of livestock transported for this purpose. Meanwhile, the Ministry of Agriculture, Fisheries and Food is preparing its defence for next week's High Court action. It is not prepared to indicate details of its defence argument but does confirm that it will be contesting the action.