II EDITOR'S COMMENT
11th October 1990
Page 5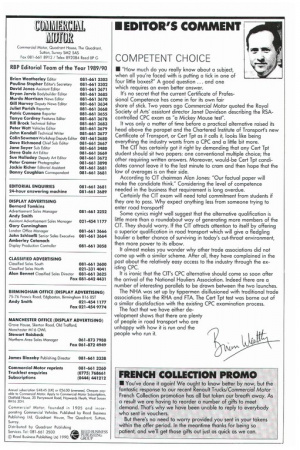 Page 5, 11th October 1990 —
II EDITOR'S COMMENT
Close
• "How much do you really know about a subject, when all you're faced with is putting a tick in one of four little boxes?" A good question ... and one which requires an even better answer.
It's no secret that the current Certificate of Professional Competence has come in for its own fair share of stick. Two years ago Commercial Motor quoted the Royal Society of Arts' assistant director Janet Davidson describing the RSAcontrolled CPC exam as "a Mickey Mouse test".
It was only a matter of time before a practical alternative raised its head above the parapet and the Chartered Institute of Transport's new Certificate of Transport, or Cert Tpt as it calls it, looks like being everything the industry wants from a CPC and a little bit more. The CIT has certainly got it right by demanding that any Cert Tpt student should sit two papers: one conventional multiple choice; the other requiring written answers. Moreover, would-be Cert Tpt candidates cannot leave it to the last minute to cram and then hope that the law of averages is on their side. According to CIT chairman Alan Jones: "Our factual paper will make the candidate think." Considering the level of competence needed in the business that requirement is long overdue. Certainly the CIT exam will need total commitment from students if they are to pass. Why expect anything less from someone trying to enter road transport?
Some cynics might well suggest that the alternative qualification is little more than a roundabout way of generating more members of the CIT. They should worry. If the CIT attracts attention to itself by offering a superior qualification in road transport which will give a fledgling haulier a better chance of surviving in today's cut-throat environment, then more power to its elbow. It almost makes you wonder why other trade associations did not come up with a similar scheme. After all, they have complained in the past about the relatively easy access to the industry through the existing CPC. It is ironic that the CIT's CPC alternative should come so soon after the arrival of the National Hauliers Association. Indeed there are a number of interesting parallels to be drawn between the two launches. The NHA was set up by tippermen disillusioned with traditional trade associations like the RHA and FTA. The Cert Tpt test was borne out of a similar disatisfaction with the existing CPC examination process.
The fact that we have either de velopment shows that there are plenty of people in road transport who are unhappy with how it is run and the people who run it.