Canute charges dropped Bon's 0-licence
11th October 1990
Page 20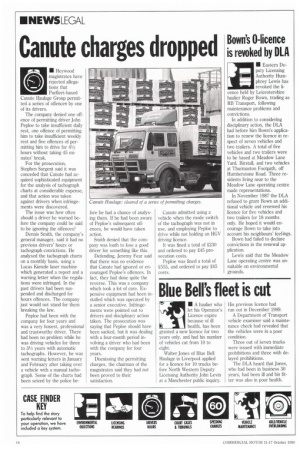 Page 20, 11th October 1990 —
Canute charges dropped Bon's 0-licence
Close
is revoked by DUI
• Heywood magistrates have rejected allegations that Purfleet-based Canute Haulage Group permitted a series of offences by one of its drivers.
The company denied one offence of permitting driver John Peploe to take insufficient daily rest, one offence of permitting him to take insufficient weekly rest and five offences of permitting him to drive for 41/2 hours without taking 45 minutes break.
For the prosecution, Stephen Sargent said it was conceded that Canute had acquired sophisticated equipment for the analysis of tachograph charts at considerable expense, and that action was taken against drivers when infringements were discovered.
The issue was how often should a driver be warned before the company could be said to be ignoring the offences?
Dennis Smith, the company's general manager, said it had no previous drivers' hours or tachograph convictions. He analysed the tachograph charts on a monthly basis, using a Lucas Kienzle laser machine which generated a report and a warning letter when the regulations were infringed. In the past drivers had been suspended and discharged for hours offences. The company just would not stand for them breaking the law.
Peploe had been with the company for four years and was a very honest, professional and trustworthy driver. There had been no problem while he was driving vehicles for three to 31/2 years with automatic tachographs. However, he was sent warning letters in January and February after taking over a vehicle with a manual tachograph. Some of the charts had been seized by the police be fore he had a chance of analysing them. If he had been aware of Peploe's subsequent offences, he would have taken action.
Smith denied that the company was loath to lose a good driver for something like this.
Defending, Jeremy Fear said that there was no evidence that Canute had ignored or encouraged Peploe's offences. In fact, they had done quite the reverse. This was a company which took a lot of care. Expensive equipment had been installed which was operated by a senior executive, Infringements were pointed out to drivers and disciplinary action taken. The prosecution was saying that Peploe should have been sacked, but it was dealing with a four-month period involving a driver who had been with the company for four years.
Dismissing the permitting charges, the chairman of the magistrates said they had not been proved to their satisfaction. Canute admitted using a vehicle when the mode switch of the tachograph was not in use, and employing Peploe to drive while not holding an HGV driving licence.
It was fined a total of £230 and ordered to pay £45 prosecution costs.
Peploe was fined a total of £555, and ordered to pay £45 costs. • Eastern Deputy Licensing Authority Humphrey Lewis has revoked the licence held by Leicestershire haulier Roger Bown, trading as RB Transport, following maintenance problems and convictions.
In addition to considering disciplinary action, the DLA had before him Bown's application to renew the licence in respect of seven vehicles and two trailers. A total of five vehicles and two trailers were to be based at Meadow Lane Yard, Birstall, and two vehicles at Thurmaston Footpath, off Humberstone Road. Three residents living near to the Meadow Lane operating centre made representations.
In November 1987 the DLA refused to grant Bown an additional vehicle and renewed his licence for five vehicles and two trailers for 18 months only. He hoped it would encourage Bown to take into account his neighbours' feelings,
Bown had failed to declare convictions in the renewal application.
Lewis said that the Meadow Lane operating centre was unsuitable on environmental grounds.