Ikarus woos Western cash
11th October 1990
Page 18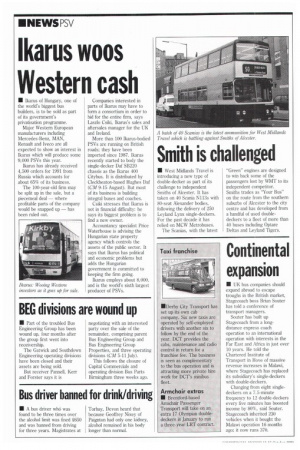 Page 18, 11th October 1990 —
Ikarus woos Western cash
Close
• Ikarus of Hungary, one of the world's biggest bus builders, is to be sold as part of its government's privatisation programme.
Major Western European manufacturers including Mercedes-Benz, MAN, Renault and Iveco are all expected to show an interest in Ikarus which will produce some 9,000 PSVs this year.
Ikarus has already received 4,500 orders for 1991 from Russia which accounts for about 65% of its business.
The 100-year-o1d firm may be split up in the sale, but a piecemeal deal — where profitable parts of the company would be snapped up — has been ruled out.
Companies interested in parts of Ikarus may have to form a consortium in order to bid for the entire fin-n, says Laszlo Csiki, lkarus's sales and aftersales manager for the I..TK and Ireland.
More than 100 Ikarus-bodied PSVs are running on British roads; they have been imported since 1987. Ikarus recently started to body the single-decker Daf SB220 chassis as the Ikarus 400 Citybus. It is distributed by Cleckheaton-based Hughes Daf (CM 9-15 August). But most of its business is building integral buses and coaches.
Csiki stresses that Ikarus is not in financial difficulty: he says its biggest problem is to find a new owner.
Accountancy specialist Price Waterhouse is advising the Hungarian state property agency which controls the assets of the public sector. It says that Ikarus has political and economic problems but adds the Hungarian government is committed to keeping the firm going.
Ikarus employs about 8,000, and is the world's sixth largest producer of PSVs.