Lawson lands extra business
11th October 1990
Page 16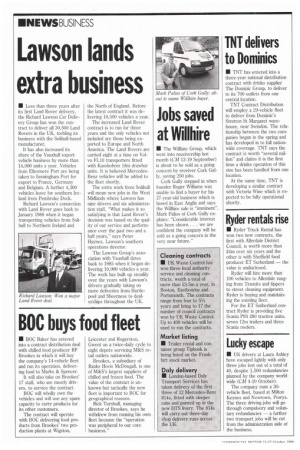 Page 16, 11th October 1990 —
Lawson lands extra business
Close
• Less than three years after its first Land Rover delivery, the Richard Lawson Car Delivery Group has won the contract to deliver all 30,500 Land Rovers in the UK, trebling its business with the Solihull-based manufacturer.
It has also increased its share of the Vauxhall export vehicle business by more than 14,000 units a year. Vehicles from Ellesmere Port are being taken to Immingham Port for export to France, Germany and Belgium. A further 4,300 vehicles leave for southern Ireland from Pembroke Dock.
Richard Lawson's connection with Land Rover goes back to January 1988 when it began transporting vehicles from Solihull to Northern Ireland and the North of England. Before the latest contract it was delivering 10,500 vehicles a year.
The increased Land Rover contract is to run for three years and the only vehicles not included are those being exported to Europe and North America. The Land Rovers are carried eight at a time on Volvo FL 10 transporters fitted with Kassbohrer 18m drawbar units. It is believed MercedesBenz vehicles will be added to the fleet shortly.
The extra work from Solihull will mean new jobs in the West Midlands where Lawson has nine drivers and six administration staff. "What makes it so satisfying is that Land Rover's decision was based on the quality of our service and performance over the past two and a half years," says Peter Haynes, Lawson's southern operations director.
The Lawson Group's association with Vauxhall dates back to 1985 when it began delivering 10,000 vehicles a year. The work has built up steadily over the years with Lawson's drivers gradually taking on more deliveries from Hartlepool and Sheerness to dealerships throughout the UK.