Volvo-Renault think tank
11th October 1990
Page 13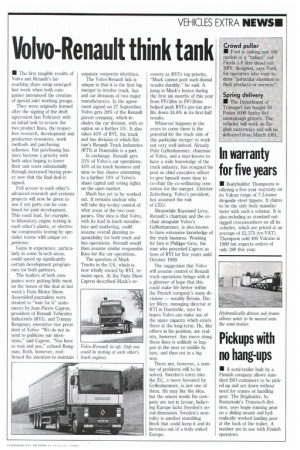 Page 13, 11th October 1990 —
Volvo-Renault think tank
Close
• The first tangible results of Volvo and Renault's farreaching share swap emerged last week when both companies announced the creation of special joint working groups.
They were originally formed after the signing of the draft agreement last February with an initial task to review the two product lines, the respective research, development and production resources, work methods and purchasing schemes. But purchasing has since become a priority with both sides hoping to lower their unit costs substantially through increased buying power now that the final deal is signed.
Full access to each other's advanced research and systems projects will now be given to see if any parts can be combined for joint development. This could lead, for example, to laboratory engine testing in each other's plants, or electronic components testing by specialist teams with unique experience.
Gains in experience, particularly in some hi-tech areas, could speed up significantly certain development programmes for both partners.
The leaders of both companies were putting little meat on the bones of the deal at last week's Paris Motor Show. Assembled journalists were treated to "wait for it" statements by Jean-Pierre Capron, president of Renault Vehicules lndustriels (RVI), and Tommy Rengman, executive vice president of Volvo: "We do not intend to publicise our intentions," said Capron. "You have to wait and see," echoed Rengman. Both, however, reaffirmed the intention to maintain Separate corporate identities.
The Volvo-Renault link is unique in that it is the first big merger to involve truck, bus and car divisions of two major manufacturers. In the agreement signed on 27 September, Volvo gets 20% of the Renault parent company, which includes the car division, with an option on a further 5%. It also takes 45% of RVI, the truck and bus division of which Britain's Renault Truck Industries (RTI) at Dunstable is a part.
In exchange, Renault gets 25% of Volvo's car operations, 45% of its truck business and aims to buy shares amounting to a further 10% of Volvo's share capital and voting rights on the open market.
Much has yet to be worked out. It remains unclear who will take day-to-day control of what areas of the two companies. One idea is that Volvo, with its lead in truck manufacture and marketing, could assume overall planning responsibility for both truck and bus operations. Renault would then assume similar responsibilities for the car operations.
The question of Mack Trucks in the US, which is now wholly owned by RVI, remains open. At the Paris Show Capron described Mack's re covery as RVI's top priority. "Mack cannot post such dismal results durably," he said. A jump in Mack's losses during the first six months of this year from FFr38m to FFr264m helped push RVI's pre-tax profits down 34.6% in its first-half results.
Whatever happens in the years to come there is the potential for the truck side of this particular merger to work out very well indeed. Already Fehr Gyllenhammer, chairman of Volvo, and a man known to have a wide knowledge of the truck industry, has resigned his post as chief executive officer to give himself more time to co-chair the co-ordinating committee for the merger. Christer Zetterherg, Volvo's president, has assumed the role of CEO.
Meanwhile Raymond Levy, Renault's chairman and the cochair alongside Volvo's Gyllenhammer, is also known to have extensive knowledge of the truck business. Working for him is Philippe Gras, the man who preceded Capron as boss of RVI for five years until October 1989.
The suggestion that Volvo will assume control of Renault truck operations brings with it a glimmer of hope that this could make life better within the French company's many divisions — notably Britain. Dieter Merz, managing director at Rh I in Dunstable, says he hopes Volvo can make use of the spare capacity which exists there in the long-term. He, like others in his position, are realists, however. Any move along these lines is unlikely to happen in the near or middle future, and then not in a big way.
There are, however, a number of problems still to be solved. Sweden's entry into the EC, a move favoured by Gyllenhammer, is just one of them. He may like the idea, but the unions inside his company are not in favour, believing Europe lacks Sweden's social dimension. Sweden's neutrality is another stumbling block that could keep it and its factories out of a truly united Europe.