Turbo-Transits on trial
11th October 1990
Page 12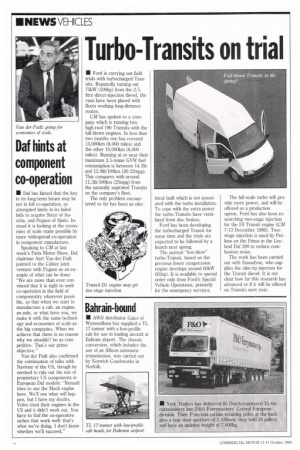 Page 12, 11th October 1990 —
Turbo-Transits on trial
Close
• Ford is carrying out field trials with turbocharged Transits. Reputedly turning out 75kW (100hp) from the 2.5litre direct-injection diesel, the vans have been placed with fleets working long-distance routes.
CM has spoken to a company which is running two high-roof 190 Transits with the hill-blown engines. In Less than two months one has covered 13,000km (8,000 miles) and the other 10,000km (6,000 miles). Running at or near their maximum 3.5-tonne GVW fuel consumption is between 14.1fit and 12.8fit./100km (20-22mpg). This compares with around 11.31it/100km (25mpg) from the naturally aspirated Transits on the company's fleet.
The only problem encountered so far has been an elec trical fault which is not associated with the turbo installation. To cope with the extra power the turbo-Transits have ventilated front disc brakes.
Ford has been developing the turbocharged Transit for some time and the trials are expected to be followed by a launch next spring.
The current "low-blow" turbo-Transit, based on the previous lower compression engine develops around 60kW ($1hp). It is available to special order only from Ford's Special Vehicle Operations, primarily for the emergency services. The full-scale turbo will provide more power, and will be offered as a production option. Ford has also been researching two-stage injection for the DI Transit engine (CM 7-13 December 1989). Twostage injection is used by Perkins on the Prima in the Leyland Daf 200 to reduce combustion noise.
The work has been carried out with Stanadyne, who supplies the slim-tip injectors for the Transit diesel: It is not clear how far this research has advanced or if it will be offered on Transits next year.