Cement truck plummet prompts bridge scrutiny
11th November 2010
Page 6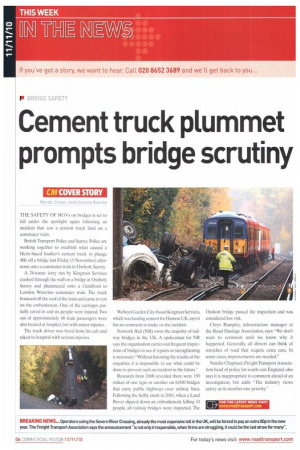 Page 6, 11th November 2010 —
Cement truck plummet prompts bridge scrutiny
Close
CM COVER STORY -,-J,mcin Jack/Joanna Bow-pc,
THE SAFETY OF HGVs on bridges is set to fall under the spotlight again following an incident that saw a cement truck land on a commuter train.
British Transport Police and Surrey Police arc working together to establish what caused a Hurts-based haulier's cement truck to plunge 40ft off a bridge last Friday (5 November) afternoon onto a commuter train in Oxshott, Surrey.
A 26-tonne lorry run by Kingman Services crashed through the wall on a bridge at Oxshott. Surrey and plummeted onto a Guildford to London Waterloo commuter train. The truck bounced off the roof of the train and came to rest on the embankment, One of the carriages partially caved in and six people were injured. Two out of approximately 40 train passengers were also treated at hospital, but with minor injuries.
The truck driver was freed from his cab and taken to hospital with serious injuries. Welwyn Garden City-based Kingman Services, which was hauling cement for Hanson UK, says it has no comment to make on the incident.
Network Rail (NR) owns the majority of railway bridges in the UK. A spokesman for NR says the organisation carries out frequent inspections or bridges to see if repairs or strengthening is necessary: "Without knowing the results of the enquiries, it is impossible to say what could be done to prevent such an incident in the future."
Research from 2008 revealed there were 150 strikes of one type or another on 8,000 bridges that carry public highways over railway lines. Following the Selby crash in 2001, when a Land Rover slipped down an embankment. killing I() people, all railway bridges were inspected. The Oxshott bridge passed the inspection and was considered low risk.
Chrys Rampley, infrastructure manager at the Road Haulage Association, says: "We don't want to comment until we know why it happened. Generally, all drivers can think of stretches of road that require extra care. In some cases, improvements are needed."
Natalie Ch apman, Freight Transport Association head of policy for south-cast England, also says it is inappropriate to comment ahead of an investigation, but adds: "The industry views safety as its number-one priority."