Fears are rife that the Driver CPC will put a
11th November 2010
Page 44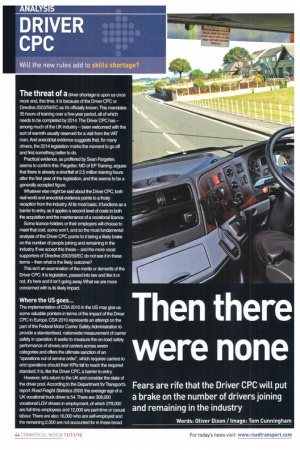 Page 45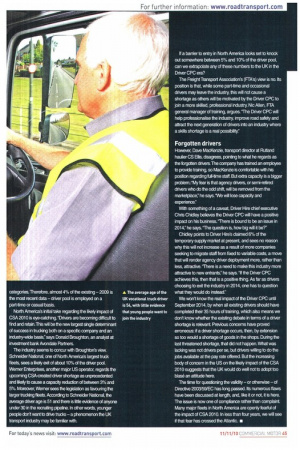 Page 44, 11th November 2010 —
Fears are rife that the Driver CPC will put a
Close
Keywords :
Transport
,
Land Transport
,
Road Transport
,
Road Safety
,
Trucks
,
Bus Transport In The United Kingdom
,
Coach Transport In The United Kingdom
,
Driver Cpc
,
Truck Driver
,
Federal Motor Carrier Safety Administration
,
Road Traffic Safety
brake on the number of drivers joining and remaining in the industry
Words: Oliver Dixon / Image: Tom Cunningham For today's news visit: www.roadtransport.com
The threat of a driver shortage is upon us once more and, this time, it is because of the Driver CPC or Directive 2003/59/EC as it's officially known. This mandates 35 hours of training over a five-year period, all of which needs to be completed by 2014 The Driver CPC has among much of the UK industry been welcomed with the sort of warmth usually reserved for a visit from the VAT man. And anecdotal evidence suggests that, for many drivers. the 2014 legislation marks the moment to go off and find something better to do
Practical evidence, as proffered by Sean Pargetter, seems to confirm this. Pargetter, MD of EP Training, argues that there is already a shortfall of 2.5 million training hours after the first year of the legislation, and this seems to be a generally accepted figure Whatever else might be said about the Driver CPC, both real-world and anecdotal evidence points to a frosty reception from the industry At its most basic it functions as a barrier to entry, as it applies a second level of costs to both the acquisition and the maintenance of a vocational licence.
Some licence-holders or their employers will choose to meet that cost, some won't, and so the most fundamental analysis of the Driver CPC points to it being a likely brake on the number of people Joining and remaining in the industry. If we accept this thesis and the more vocal supporters of Directive 2003/59/EC do not see it in these terms then what is the likely outcome?
This isn't an examination of the merits or demerits of the Driver CPC: it is legislation, passed into law and like it or not ifs here and it isn't going away. What we are more concerned with is its likely impact.
Where the US goes...
The implementation of CSA 2010 in the US may give us some valuable pointers in terms of the impact of the Driver CPC in Europe. CSA 2010 represents an attempt on the part of the Federal Motor Carrier Safety Administration to provide a standardised, nationwide measurement of carrier safety in operation It seeks to measure the on-road safety performance of drivers and carriers across seven categories and offers the ultimate sanction of an "operations out of service order", which requires carriers to end operations should their KPIs fail to reach the required standard. It is, like the Driver CPC, a barrier to entry.
However, let's return to the UK and consider the state of the driver pool. According to the Department for Transport's report Road Freight Statistics 2009, the average age of a UK vocational truck driver is 54 There are 309,000 vocational LGV drivers in employment, of which 279,000 are full-time employees and 12,000 are part-time or casual labour. There are also 16,000 who are self-employed and the remaining 2,000 are not accounted for in these broad
categories. Therefore, almost 4% of the existing — 2009 is the most recent data — driver pool is employed on a part-time or casual basis.
North America's initial take regarding the likely impact of CSA 2010 is eye-catching. "Drivers are becoming difficult to find and retain. This will be the new largest single determinant of success in trucking both on a specific company and an industry-wide basis',' says Donald Broughton, an analyst at investment bank Avondale Partners.
The industry seems to concur with Broughton's view. Schneider National, one of North America's largest truck fleets, sees a likely exit of about 10% of the driver pool. Werner Enterprises, another major US operator, regards the upcoming CSA-created driver shortage as unprecedented and likely to cause a capacity reduction of between 3% and 5%. Moreover, Werner sees the legislation as favouring the larger trucking fleets. According to Schneider National, the average driver age is 51 and there is little evidence of anyone under 30 in the recruiting pipeline. In other words, younger people don't want to drive trucks — a phenomenon the UK transport industry may be familiar with. If a barrier to entry in North America looks set to knock out somewhere between 5% and 10% of the driver pool, can we extrapolate any of these numbers to the UK in the Driver CPC era?
The Freight Transport Association's (RA's) view is no. Its position is that, while some part-time and occasional drivers may leave the industry, this will not cause a shortage as others will be motivated by the Driver CPC to join a more skilled, professional industry. Nic Allen, FTA general manager of training, argues. The Driver CPC will help professionalise the industry improve road safety and attract the next generation of drivers into an industry where a skills shortage is a real possibility'
Forgotten drivers
However, Dave MacKenzie. transport director at Rutland haulier CS Ellis, disagrees, pointing to what he regards as the forgotten drivers The company has trained an employee to provide training, so MacKenzie is comfortable with his position regarding full-time staff. But extra capacity is a bigger problem.:"My fear is that agency drivers, or semi-retired drivers who do the odd shift, will be removed from the marketplace,' he says. 'We will lose capacity and experience."
With something of a caveat, Driver Hire chief executive Chris Chidley believes the Driver CPC will have a positive impact on his business. 'There is bound to be an issue in 2014," he says:The question is, how big will it be?"
Chidley points to Driver Hire's claimed 6% of the temporary supply market at present, and sees no reason why this will not increase as a result of more companies seeking to migrate staff from fixed to variable costs, a move that will render agency driver deployment more, rather than less, attractive. 'There is a need to make this industry more attractive to new entrants," he says "If the Driver CPC achieves this, then that is a positive thing. As far as drivers choosing to exit the industry in 2014, one has to question what they would do instead"
We won't know the real impact of the Driver CPC until September 2014, by when all existing drivers should have completed their 35 hours of training, which also means we don't know whether the existing debate in terms of a driver shortage is relevant. Previous concerns have proved erroneous: if a driver shortage occurs, then, by extension so too would a shortage of goods in the shops. During the last threatened shortage, that did not happen. What was lacking was not drivers per se, but drivers willing to do the jobs available at the pay rate offered. But the increasing body of concern in the US on the likely impact of the CSA 2010 suggests that the UK would do well not to adopt too blase an attitude here.
The time for questioning the validity — or otherwise — of Directive 2003/59/EC has long passed. Its numerous flaws have been discussed at length, and, like it or not, it is here. The issue is now one of compliance rather than complaint. Many major fleets in North America are openly fearful of the impact of CSA 2010. In less than four years, we will see if that fear has crossed the Atlantic. •