bou nd
11th November 2010
Page 40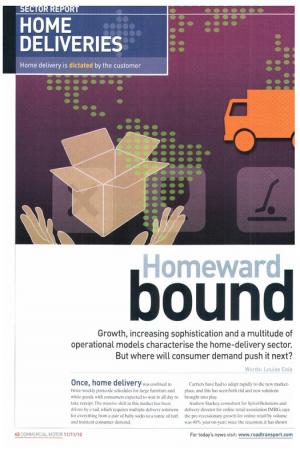 Page 41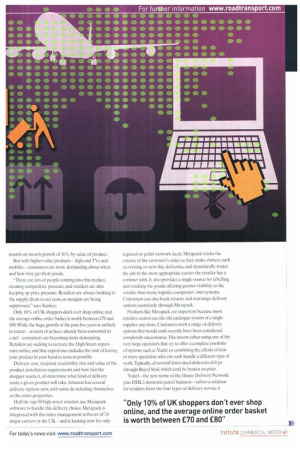 Page 42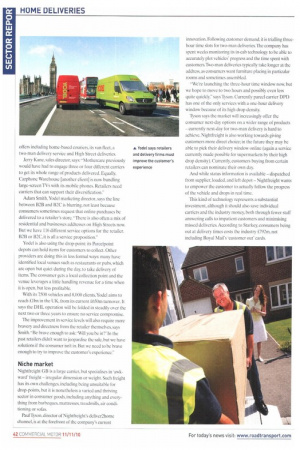 Page 43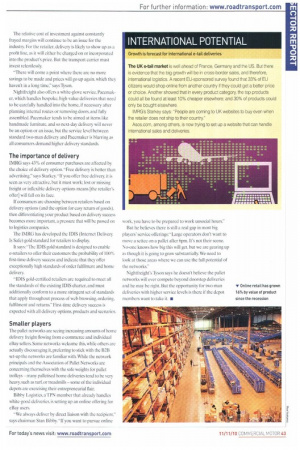 Page 40, 11th November 2010 —
bou nd
Close
Keywords :
Business
,
Technology
,
Transport
,
Marketing
,
Express Mail
,
Electronic Commerce
,
Information Technology Management
,
Package Delivery
,
Postal System
,
Online Shopping
,
Cargo
,
Ontrac
,
Business / Finance
Growth, increasing sophistication and a multitude of operational models characterise the home-delivery sector. But where will consumer demand push it next?
Words: Louise Cole
Once, home delivery was confined to twice-weekly postcode schedules for large furniture and white goods, with consumers expected to wait in all day to take receipt. The massive shift in this market has been driven by e-tail, which requires multiple delivery solutions for everything from a pair of baby socks to a tonne of turf. and insistent consumer demand.
Carriers have had to adapt rapidly to the new marketplace, and this has seen both old and new solutions brought into play.
Andrew Starkey, consultant for Spiral4Solutions and delivery director for online retail association 1MRG, says the pre-recessionary growth for online retail by volume was 40% year-on-year; since the recession, it has shown
month-on-month growth of 16% by value of product.
But with higher-value products high-end TVs and mobiles consumers are more demanding about when and how they get their goods "There are lots of people coming into this market, creating competitive pressure, and retailers are also keeping up price pressure. Retailers are always looking to the supply chain to cut costs. so margins are being suppressed," says Starkey.
Only 10% of UK shoppers don't ever shop online, and the average online order basket is worth between £70 and £80. While the huge growth of the past five years is unlikely to return as most of us have already been converted to e-tail consumers are becoming more demanding. Retailers are seeking to recreate the High Street experience online, and that experience includes the rush of having your product in your hand as soon as possible.
Delivery cost, recipient availability, size and value of the product. installation requirements and how fast the shopper wants it, all determine what kind of delivery route a given product will take. Amazon has several delivery options now, with some de-selecting themselves as the order progresses.
Half the top 50 high-street retailers use Metapack software to handle this delivery choice. Metapack is integrated with the order management software of 24 major carriers in the UK and is looking now for only regional or pallet network deals. Metapack tracks the criteria of the customer's order as they make choices, such as evening or next-day deliveries, and dynamically routes the job to the most appropriate carrier the retailer has a contract with. It also provides a single source for labelling and tracking the goods, offering greater visibility to the retailer than many logistics companies' own systems. Customers can also book returns and rearrange delivery options seamlessly through Metapack.
Products like Metapack are important because most retailers cannot use the old catalogue system of a single supplier any more. Customers want a range of delivery options that would until recently have been considered completely uneconomic. 'Ibis means either using one of the very large operators that try to offer a complete portfolio of options, such as Yodel, or combining the efforts of four or more specialists who can each handle a different type of work.Typically, all normal letter-sized deliveries still go through Royal Mail, which can't be beaten on price.
Yodel the new name of the Home Delivery Network plus DHL's domestic parcel business tailors a solution for retailers from the four types of delivery service it
offers including home-based couriers, its van fleet, a two-man delivery service and High Street deliveries
Jerry Kane. sales director. says: -Mothercare previously would have had to engage three or four different carriers to get its whole range of products delivered. Equally, Carphonc Warehouse [another client] is now bundling large-screen TVs with its mobile phones Retailers need carriers that can support their diversification."
Adam Smith, Yodel marketing director, says the line between B2B and B2C is blurring, not least because consumers sometimes request that online purchases be delivered to a retailer's store. "There is also often a mix of residential and businesses addresses on High Streets now. But we have 116 different service options for the retailer. B2B or B2C, it is all a service proposition."
Yodel is also using the drop-point: its Parcelpoint depots can hold items for customers to collect. Other providers are doing this in less formal ways: many have identified local venues such as restaurants or pubs, which are open but quiet during the day, to take delivery of items The consumer gets a local collection point and the venue leverages a little handling revenue for a time when it is open, but less profitable.
With its 7500 vehicles and 8,000 clients, Yodel aims to reach ilbn in the UK, from its current I:650m turnover. It says the DHL operation will be folded in steadily over the next two or three years to ensure no service compromise.
The improvement in service levels will also require more bravery and directness from the retailer themselves, says Smith. "Be brave enough to ask: 'Will you be in?' In the past retailers didn't want to jeopardise the sale, but we have solutions if the consumer isn't in. But we need to be brave enough to try to improve the customer's experience."
Niche market
Nightfreight GB is a large carrier, but specialises in 'awkward' freight irregular dimension or weight. Such freight has its own challenges. including being unsuitable for drop-points, hut it is nonetheless a varied and thriving sector in consumer goods, including anything and everything from barbeques mattresses, treadmills, air conditioning or sofas.
Paul Tyson, director of Nightfreight's deliver2home channel, is at the forefront of the company's current
innovation. Following customer demand, it is trialling threehour time slots for two-man deliveries The company has spent weeks monitoring its in-cab technology to be able to accurately plot vehicles' progress and the time spent with customers.Two-man deliveries typically take longer at the address, as consumers want furniture placing in particular rooms and sometimes assembled.
"We're launching the three-hour time window now, but we hope to move to two hours and possibly even less quite quickly,says Tyson. Currently parcel carrier DPI) has one of the only services with a one-hour delivery window because of its high drop density
Tyson says the market will increasingly offer the consumer next-day options on a wider range of products currently next-day for two-man delivery is hard to achieve. Nightfreight is also working towards giving customers more direct choice; in the future they may be able to pick their delivery window online (again a service currently made possible for supermarkets by their high drop density). Currently, customers buying from certain retailers can nominate their own day.
And while status information is available dispatched from supplier, loaded, and left depot Nightfreight wants to empower the customer to actually follow the progress of the vehicle and drops in real time.
This kind of technology represents a substantial investment, although it should also save individual carriers and the industry money, both through fewer staff answering calls to impatient customers and minimising missed deliveries. According to Starkey, consumers being out at delivery times costs the industry 092m, not including Royal Mail's 'customer out' cards
The relative cost of investment against constantly frayed margins will continue to be an issue for the industry. For the retailer, delivery is likely to show up as a profit line, as it will either be charged on or incorporated into the product's price. But the transport carrier must invest relentlessly.
"There will come a point where there are no more savings to be made and prices will go up again, which they haven't in a long time," says Tyson.
Nightfreight also offers a white-glove service. Pacemaker. which handles bespoke. high-value deliveries that need to be carefully handled into the home, if necessary after planning internal routes or removing doors, and fully assembled. Pacemaker tends to be aimed at items like handmade furniture, and so next-day delivery will never be an option or an issue, but the service level between standard two-man delivery and Pacemaker is blurring as all consumers demand higher delivery standards.
The importance of delivery
IMRG says 43% of consumer purchases are affected by the choice of delivery option. "Free delivery is better than advertising," says Starkey. "If you offer free delivery, it is seen as very attractive, but it must work; lost or missing freight or inflexible delivery options means [the retailer's offer] will fall on its face.
If consumers are choosing between retailers based on delivery options (and the option for easy return of goods), then differentiating your product based on delivery success becomes more important, a pressure that will be passed on to logistics companies.
The 1MRG has developed the IDIS (Internet Delivery Is Safe) gold standard for retailers to display.
It says: "The IDIS gold standard is designed to enable e-retailers to offer their customers the probability of 100% first-time delivery success and indicate that they offer exceptionally high standards of order fulfilment and home delivery.
"IDIS gold-certified retailers are required to meet all the standards of the existing IDIS charter, and must additionally conform to a more stringent set of standards that apply throughout process of web browsing, ordering, fulfilment and returns." First-time delivery success is expected with all delivery options, products and scenarios.
Smaller players
The pallet networks are seeing increasing amounts of home delivery &eight flowing from e-commerce and individual eBay sellers. Some networks welcome this, while others are actually discouraging it, preferring to stick with the B2B set-up the networks are familiar with. While the network principals and the Association of Pallet Networks are concerning themselves with the safe weights for pallet trolleys — many palletised home deliveries tend to be very heavy, such as turf, or treadmills — some of the individual depots are exercising their entrepreneurial flair.
Bibby Logistics, a TPN member that already handles white-good deliveries, is setting up an online offering for eBay users.
"We always deliver by direct liaison with the recipient." says chairman Stan Bibby. "If you want to pursue online work, you have to be prepared to work unsocial hours," But he believes there is still a real gap in most big players' service offerings: "Large operators don't want to move a settee on a pallet after 6prn. It's not their scene. No-one knows how big this will get, but we are gearing up as though it is going to grow substantially. We need to look at those areas where we can use the full potential of the networks."
Nightfreight's Tyson says he doesn't believe the pallet networks will ever compete beyond doorstep deliveries and he may be right. But the opportunity for two-man deliveries with higher service levels is there if the depot members want to take it. ei