With a mixed fleet of 25 trucks, the latest arrivals
11th November 2010
Page 36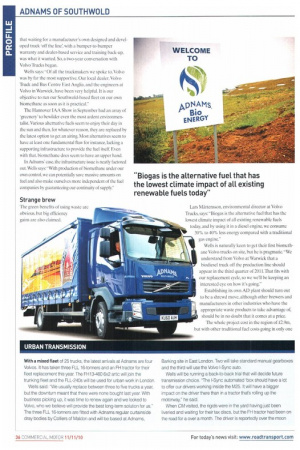 Page 37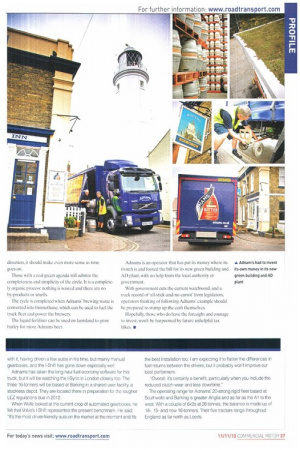 Page 36, 11th November 2010 —
With a mixed fleet of 25 trucks, the latest arrivals
Close
at Adnams are four Volvos. It has taken three FLL 16-tonners and an FH tractor for their fleet replacement this year. The FH13-460 6x2 artic will join the trunking fleet and the FLL-240s will be used for urban work in London.
Wells said: "We usually replace between three to five trucks a year, but the downturn meant that there were none bought last year. With business picking up, it was time to renew again and we looked to Volvo, who we believe will provide the best long-term solution for us." The three FLL 16-tonners are fitted with Adnams regular curtainside dray bodies by Colliers of Maldon and will be based at Adnams, Barking site in East London. Two will take standard manual gearboxes and the third will use the Volvo I-Sync auto.
Wells will be running a back-to-back trial that will decide future transmission choice. "The I-Sync automated 'box should have a lot to offer our drivers working inside the M25. It will have a bigger impact on the driver there than in a tractor that's rolling up the motorway," he said.
When CM visited, the rig ids were in the yard having just been liveried and waiting for their tax discs, but the FH tractor had been on the road for a over a month. The driver is reportedly over the moon with it, having driven a few autos in his time, but mainly manual gearboxes, and the i-Shift has gone down especially well Adnams has taken the long-haul fuel economy software for this truck, but it will be watching the I-Sync in London closely too. The three 16-tonners will be based at Barking in a shared user facility, a stockless depot. They are located there in preparation for the tougher LEZ regulations due in 2012.
When Wells looked at the current crop of automated gearboxes, he felt that Volvo's I-Shift represented the present benchmark. He said: "It's the most driver-friendly auto on the market at the moment and it's the best installation too. I am expecting it to flatten the differences in fuel returns between the drivers, but it probably won't improve our best performers.
"Overall, it's certainly a benefit, particularly when you include the reduced clutch wear and less downtime."
The operating range for Adnams' 20-strong rigid fleet based at Southwold and Barking Is greater Anglia and as far as the Al to the west. With a couple of 6x2s at 26 tonnes, the balance is made up of 18-, 15and now 16-tonners. Their five tractors range throughout England as far north as Leeds.