One of the oldest, long-established trades that has used haulage
11th November 2010
Page 35
Page 36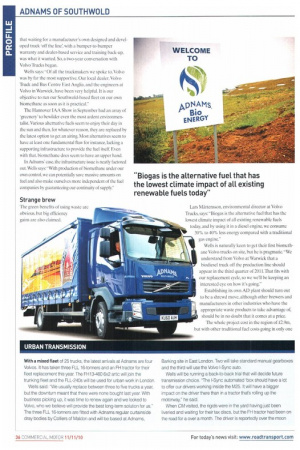 Page 37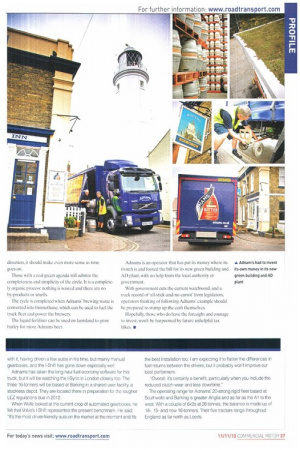 Page 35, 11th November 2010 —
One of the oldest, long-established trades that has used haulage
Close
Keywords :
Waste Management
,
Sustainability
,
Environment
,
Biofuels
,
Fuels
,
Adnams Brewery
,
Anaerobic Digestion
,
Biomass
,
Hisingen
,
Southwold
,
Volvo Trucks
,
Biodiesel
,
Environment
from the very startstart is the brewing industry. Moving barrels of beer from the brewery to the bar has needed horsepower from the beginning: four-legged in the early days, followed by four-wheeled and more.
With roots that go back to the 14th century, Suffolkbased Adnams of Southwold is one of the oldest brewers in the country. With a relatively modest fleet of around 25 trucks, it has stuck with tradition and quality, rather than go for quantity although with production running at more than 28 million pints last year, it doesn't sound, if you'll pardon the pun. like small beer either.
Keeping the fleet legal and clean as far as Euro emission levels are concerned is relatively easy, if not particularly cheap. But Adnams believes that it needs to go further to cut its carbon footprint.
Adnams supply chain manager Kevin Wells outlines the approach. ''We are very fortunate to have a management board here that sees transport as an important part of what we do, rather than just a necessary evil. As a local company of such long standing, they believe that they have a duty to reduce their carbon footprint to the minimum and so have as little impact as possible on the local community," he says.
With a steadily expanding business operating in a residential part of the historic town, 2006 saw the move of the distribution centre and administrative HQ to a new site a few miles closer to the Al2 trunk road. With an eye to green issues, a brownfield disused quarry site was acquired and the build avoided CO2-generating concrete in the design and construction. A sedum-planted roof negated the use of artificial temperature control to keep stock in good condition, and rainwater is used to supply the office toilets and the truck wash, Wells adds: "The environment is close to our hearts. Our main office was taken out of the residential part of the old town and the new distribution centre was created here. We didn't want another shed that cost the environment thousands of tonnes of CO2 to build and maintain."
Clean, green machines
So, with the building ticking all the right green boxes. Adnams has now switched its focus to its transport fleet, with biomethane gas taking a lead role. Wells explains: "Apart from running the cleanest trucks currently available, we've been looking further into the future with a thorough review of alternative fuels. Biodiesel looked promising in the early days. but it has a number of problems, most notably the conflict with food production, although I'll admit that biocliesel based on algae looks more interesting. We looked closer to home and examined how we could take advantage of the waste products from our brewing processes, and biomethane soon became the obvious route for us to take."
Work soon began on a new anaerobic digestion (AD) plant, which started biomethane production last month and is converting Adnams' brewery waste and food waste from its local pubs, other local businesses, hotels, restaurants and schools, into biomethane. This new facility is called Adnams Bio Energy and it has started to inject the biomethane directly into the National Grid under a deal agreed with British Gas, believed to be a UK first.
The plant will generate 4.8 million kWh per year that's enough to heat 235 family homes for a year or run an average family car for 7.2 million miles it's more than Adnams needs itself. There will be enough gas to run the Adnams brewery. fuel its truck fleet and inject up to 40% of its output into the National Grid.
Biomethane on tap
So the fuel is waiting, where are the trucks? Adnams looked at biomethane conversions based on several manufacturers' chassis and felt that there were still too many issues with warranty and service. Its conclusion was that waiting for a manufacturer's own designed and developed truck 'off the line', with a bumper-to-bumper warranty and dealer-based service and training back-up, was what it wanted. So, a two-year conversation with Volvo Trucks began.
Wells says: "Of all the truckmakers we spoke to, Volvo was by far the most supportive. Our local dealer. Volvo Truck and Bus Centre East Anglia, and the engineers at Volvo in Warwick, have been very helpful. It is our objective to run our Southwold-based fleet on our own biomethane as soon as it is practical."
The Hannover IAA Show in September had an array of 'greenery' to bewilder even the most ardent environmentalist. Various alternative fuels seem to enjoy their day in the sun and then, for whatever reason, they are replaced by the latest option to get an airing. Most alternatives seem to have at least one fundamental flaw for instance, lacking a supporting infrastructure to provide the fuel itself. Even with that. biomethane does seem to have an upper hand.
In Adnams' case, the infrastructure issue is neatly factored out. Wells says: With production of biomethane under our own control, we can potentially save massive amounts on fuel and also make ourselves more independent of the fuel companies by guaranteeing our continuity of supply."
Strange brew
The 2.reen benefits of using waste are obvious, but big efficiency gains are also claimed. Lars Mktensson, environmental director at Volvo Trucks, says:"Biogas is the alternative fuel that has the lowest climate impact of all existing renewable fuels today, and by using it in a diesel engine, we consume 30% to 40% less energy compared with a traditional gas engine."
Wells is naturally keen to get their first biomethane Volvo trucks on site, but he is pragmatic. "We understand from Volvo at Warwick that a biodiesel truck off the production line should appear in the third quarter of 2011. That fits with our replacement cycle, so we we'll be keeping an interested eye on how it's going."
Establishing its own AD plant should turn out to be a shrewd move, although other brewers and manufacturers in other industries who have the appropriate waste products to take advantage of, should be in no doubt that it comes at a price.
The whole project cost in the region of £2.9m, but with other traditional fuel costs going in only one direction, it should make even more sense as time goes on.
Those with a real green agenda will admire the completeness and simplicity of the circle. It is a completely organic process: nothing is wasted and there are no by-products or smells.
The cycle is completed when Adnams' brewing waste is converted into biornethane, which can be used to fuel the truck fleet and power the brewery.
The liquid fertiliser can be used on farmland to grow barley for more Adnams beer. Adnams is an operator that has put its money where its mouth is and footed the bill for its new green building and AD plant, with no help from the local authority or government.
With government cuts the current watchword. and a track record of tall-stick-and-no-carrot' from legislators, operators thinking of following Adnams* example should he prepared to stump up the cash themselves.
Hopefully, those who do have the foresight and courage to invest, won't be harpooned by future unhelpful tax hikes is