Tackling truck crime
11th November 2010
Page 26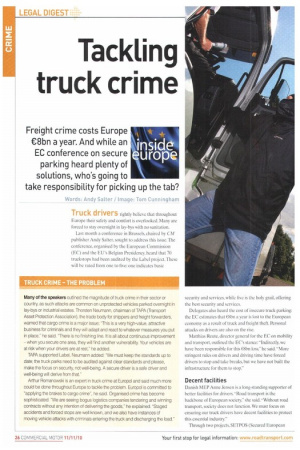 Page 27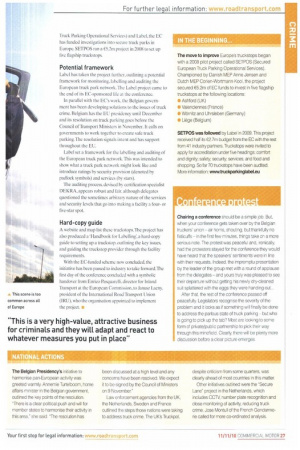 Page 26, 11th November 2010 —
Tackling truck crime
Close
Freight crime costs Europe €8bn a year. And while an EC conference on secure parking heard plenty of solutions, who's going to take responsibility for picking up the tab?
Words: Andy Satter / Image: Tom Cunningham Truck drivers rightly believe that throughout Europe their safety and comfort is overlooked. Many are forced to stay overnight in lay-bys with no sanitation.
Last month a conference in Brussels, chaired by CM publisher Andy Salter, sought to address this issue.The conference, organised by the European Commission (EC) and the EU's Belgian Presidency, heard that 70 truckstops had been audited by the Label project. These will be rated from one to five: one indicates basic security and services, while five is the holy grail, offering the best security and services.
Delegates also heard the cost of insecure truck parking; the EC estimates that f.:Sbn a year is lost to the European economy as a result of truck and freight theft. Personal attacks on drivers are also on the rise.
Matthias Reute, director general for the EC on mobility and transport, outlined the EC's stance:Indirectly, we have been responsible for this €8bn loss," he said. "More stringent rules on drivers and driving time have forced drivers to stop and take breaks, but we have not built the infrastructure for them to stop."
Decent facilities
Danish MEP Anne Jensen is a long-standing supporter of better facilities for drivers. "Road transport is the backbone of European society," she said. "Without road transport, society does not function. We must focus on ensuring our truck drivers have decent facilities to protect this essential industry."
Through two projects, SETPOS (Secured European Truck Parking Operational Services) and Label, the EC has funded investigations into secure truck parks in Europe. SETPOS ran a €5.2m project in 2008 to set up Jive flagship truckstops.
Potential framework
Label has taken the project further, outlining a potential framework for monitoring, labelling and auditing the European truck park network. 'the Label project came to the end of its EC-sponsored life at the conference.
In parallel with the EC's work, the Belgian government has been developing solutions to the issues of truck crime. Belgium has the EU presidency until December and its resolution on truck parking goes before the Council of Transport Ministers in November. It calls on governments to work together to create safe truck parking. The resolution signals intent and has support throughout the EU.
Label set a framework for the labelling and auditing of the European truck park network. This was intended to show what a truck park network might look like and introduce ratings by security provision (denoted by padlock symbols) and services (by stars).
The auditing process, devised by certification specialist DEKRA, appears robust and fair, although delegates questioned the sometimes arbitrary nature of the services and security levels that go into making a facility a fouror five-star spot.
Hard-copy guide
A website and map list these truckstops. The project has also produced a 'Handbook for Labelling; a hard-copy guide to setting up a truckstop. outlining the key issues, and guiding the truckstop provider through the facility requirements With the EC-funded scheme now concluded, the initiative has been passed to industry to take forward. The first day of the conference concluded with a symbolic handover from Enrico Pasquarelli, director for Inland Transport at the European Commission, to Janusz Lacny, president of the International Road Transport Union (TRU), who the organisation appointed to implement the project. is