P LETTER OF THE WEEK
11th November 2010
Page 20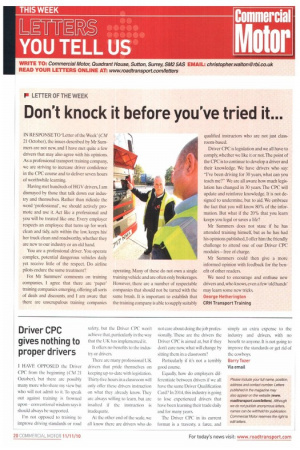 Page 20, 11th November 2010 —
P LETTER OF THE WEEK
Close
Don't knock it before you've tried it...
IN RESPONSE TO 'Letter of the Week' (CM 21 October), the issues described by Mr Summers are not new, and I have met quite a few drivers that may also agree with his opinions. As a professional transport training company, we are striving to increase driver confidence in the CPC course and to deliver seven hours of worthwhile learning.
Having met hundreds of HGV drivers, I am dismayed by those that talk down our industry and themselves. Rather than ridicule the word 'professional', we should actively promote and use it. Act like a professional and you will be treated like one. Every employer respects an employee that turns up for work clean and tidy, acts within the law, keeps his/ her truck clean and roadworthy, whether they are new to our industry or an old hand_ You are a professional driver. You operate complex, potential dangerous vehicles daily yet receive little of the respect Do airline pilots endure the same treatment?
For Mr Summers' comments on training companies. I agree that there are 'paper' training companies emerging, offering all sorts of deals and discounts, and I am aware that there are unscrupulous training companies operating. Many of these do not own a single training vehicle and are often only brokerages. However, there arc a number of respectable companies that should not be tarred with the same brush. It is important to establish that the training company is able to supply suitably qualified instructors who are not just classroom-based.
Driver CPC is legislation and we all have to comply, whether we like it or not. The point of the CPC is to continue to develop a driver and their knowledge. We have drivers who say: "I've been driving for 30 years, what can you teach me?" We are all aware how much legislation has changed in 30 years The CPC will update and reinforce knowledge. It is not designed to undermine, but to aid. We embrace the fact that you will know 80% of the information. But what if the 20% that you learn keeps you legal or saves a life?
Mr Summers does not state if he has attended training himself, but as he has had his opinions published,! offer him the friendly challenge to attend one of our Driver CPC modules — free of charge.
Mr Summers could then give a more informed opinion with feedback for the benefit of other readers.
We need to encourage and enthuse new drivers and, who knows, even a few 'old hands' may learn some new tricks.
George Hetherington
CRH Transport Training