Driver CPC gives nothing to proper drivers
11th November 2010
Page 20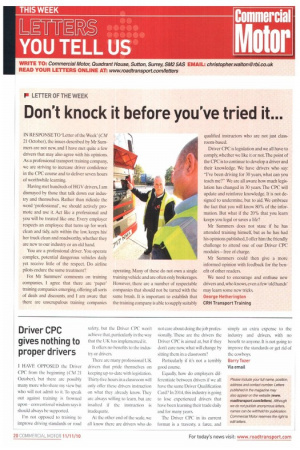 Page 20, 11th November 2010 —
Driver CPC gives nothing to proper drivers
Close
I HAVE OPPOSED the Driver CPC from the beginning (CM 21 October), but there are possibly many more who share my view but who will not admit to it. To speak out against training is frowned upon — conventional wisdom says it should always be supported.
I'm not opposed to training to improve driving standards or road safety, hut the Driver CPC won't achieve that, particularly in the way that the UK has implemented it.
It offers no benefits to the industry or drivers.
There are many professional UK drivers that pride themselves on keeping up-to-date with legislation. Thirty-five hours in a classroom will only offer these drivers instruction on what they already know. They are always willing to learn. but are insulted if the instruction is inadequate.
At the other end of the scale, we all know there are drivers who do not care about doing the job professionally. These are the drivers the Driver CPC is aimed at, but if they don't care now, what will change by sitting them in a classroom?
Particularly if it's not a terribly good course.
Equally, how do employers differentiate between drivers if we all have the same Driver Qualification Card? In 2014, this industry is going to lose experienced drivers that have been learning their trade daily and for many years The Driver CPC in its current format is a travesty, a farce, and simply an extra expense to the industry and drivers, with no benefit to anyone. It is not going to improve the standards or get rid of the cowboys.
Barry Tozer Via email
Please include your full name, position, address and contact number. Letters published in the magazine may also appear on the website (www. roadtransport.cornlettens). Although we do not publish anonymous letters, names can be withheld for publication. Commercial Motor reserves the right to edit letters.