Phoenix companies will not be able to use NIC break scheme, says HMRC
11th November 2010
Page 13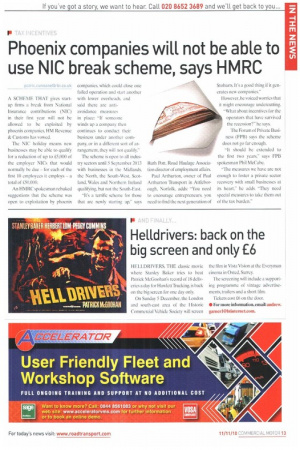 Page 13, 11th November 2010 —
Phoenix companies will not be able to use NIC break scheme, says HMRC
Close
patric...eunnaneGrbi.co.uk
A SCHEME THAT gives startup firms a break from National Insurance contributions (NIC) in their first year will not be allowed to he exploited by phoenix companies, HM Revenue & Customs has vowed.
The NIC holiday means new businesses may be able to qualify for a reduction of up to £5,000 of the employer NICs that would normally be due — for each of the first 10 employees it employs — a total of £50,000.
An HMRC spokesman rebuked suggestions that the scheme was open to exploitation by phoenix
companies, which could close one failed operation and start another with lower overheads, and said there are anti avoidance measures in place: "If someone
winds up a company then continues to conduct their business under another company, or in a different sort of arrangement, they will not qualify."'
The scheme is open to all industry sectors until 5 September 2013 with businesses in the Midlands. the North, the South-West, Scotland, Wales and Northern Ireland qualifying, but not the South-East.
"It's a terrific scheme for those that are newly starting up." says Ruth Pott, Road Haulage Association director of employment affairs, Paul Arthurton, owner of Paul Arthurton Transport in Attleborough. Norfolk, adds: "You need to encourage entrepreneurs, you need to find the next generation of Stobarts. It's a good thing if it generates new companies."
However, he voiced worries that it might encourage undercutting. "What about incentives for the operators that have survived the recession?" he says.
'The Forum of Private Busi
. ness (FPB) says the scheme does not go far enough.
"It should be extended to the first two years," says FPB spokesman Phil McCabe.
-'lbe measures we have are not enough to foster a private sector recovery with small businesses at its hearthe adds. "They need special measures to take them out of the tax burden."