P TECHNOLOGY
11th November 2010
Page 11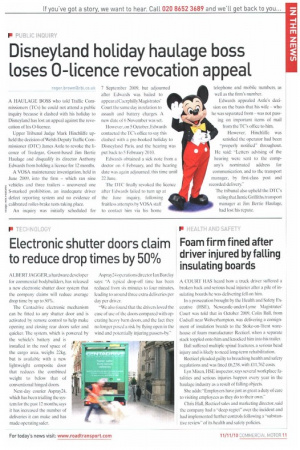 Page 11, 11th November 2010 —
P TECHNOLOGY
Close
Electronic shutter doors claim to reduce drop times by 50%
ALBERT JAGGER,a hardware developer for commercial bodybuilders, has released a new electronic shutter door system that the company claims will reduce average drop time by up to 50%.
The Centadrive electronic mechanism can be fitted to any shutter door and is activated by remote control to help make opening and closing rear doors safer and quicker. The system, which is powered by the vehicle's battery and is installed in the roof space of the cargo area, weighs 22kg, but is available with a new lightweight composite door that reduces the combined weight to below that of conventional hinged doors Next-day courier Aspray24, which has been trialling the system for the past 12 months, says it has increased the number of deliveries it can make and has made operating safer. Aspray24 operations director Ian Barclay says: "A typical drop-off time has been reduced from six minutes to four minutes, leading to around three extra deliveries per day per driver.
"We also found that the drivers loved the ease of use of the doors compared with operating heavy barn doors, and the fact they no longer posed a risk by flying open in the wind and potentially injuring passers-by."