What lies ahead for BMC?
11th November 1966
Page 84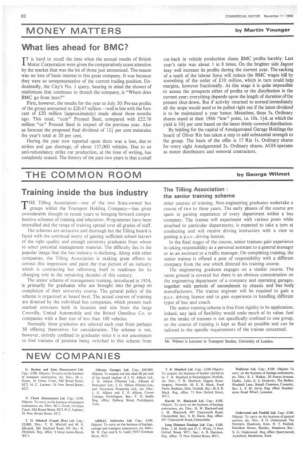 Page 84, 11th November 1966 —
What lies ahead for BMC?
Close
IT is hard to recall the time when the annual results of British Motor Corporation were given the comparatively scant attention by the market that was the lot of those just announced. The reason was no loss of basic interest in this great company. It was because they were so unrepresentative of the current trading position. Undoubtedly, the City's No. 1 query, bearing in mind the shower of misfortune that continues to drench the company, is "Where does BMC go from here?"
First, however, the results for the year to July 30: Pre-tax profits of the group amounted to £20.47 million—well in line with the forecast of £20 million (approximately) made about three months ago. This total, "cum" Pressed Steel, compared with £22.78 million "ex" Pressed Steel in respect of the previous year. Also as forecast the proposed final dividend of 12+ per cent maintains the year's total at 20 per cent.
During the year now reported upon there was a loss, due to strikes and gas shortage, of about 137,000 vehicles. Due to an anti-redundancy strike car production, at the time of writing, has completely ceased. The history of the past two years is that a small cut-back in vehicle production slams BMC profits harshly. Last year's ratio was about 1 in 8 times. On the brighter side Jaguar may well increase its profits during the current year. The sacking of a tenth of the labour force will reduce the BMC wages bill by something of the order of £10 million, which in turn could help margins, however fractionally. At this stage it is quite impossible to assess the prospects either of profits or the distribution in the current year; everything depends upon the length of duration of the present shut-down. But if activity returned to normal immediately all the stops would need to be pulled right out if the latest dividend is to be maintained a year hence. Meantime, these 5s. Ordinary shares stand at their 1966 "low" point, i.e. 10s. 14-d. at which the yield is 10-1per cent based on the latest thinly-covered distribution.
By bidding for the capital of Amalgamated Garage Holdings the board of Oliver Rix has taken a step to add substantial strength to the group. The basis of the offer is 17 Rix Is. Ordinary shares for every eight Amalgamated 2s. Ordinary shares. AGH operates as motor distributors and removal contractors.