The Tilling Association : the senior training scheme other courses
11th November 1966
Page 84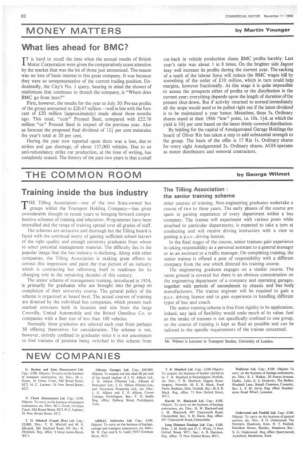 Page 84, 11th November 1966 —
The Tilling Association : the senior training scheme other courses
Close
of training. Non-engineering graduates undertake a course of two to three years. The early phases of the course are spent in gaining experience of every department within a bus company. The trainee will experiment with various posts while attached to particular departments, is expected to take a turn at conducting and will receive driving instruction with a view to gaining a p.s.v. driving licence.
In the final stages of the course, senior trainees gain experience in taking responsibility as a personal assistant to a general manager or as an assistant to a traffic manager. On completing training, the senior trainee is offered a post of responsibility with a different company from the one which directed his training course.
The engineering graduate engages on a similar course. The same ground is covered but there is an obvious concentration on the engineering department of a company and operating garages, together with periods of secondment to chassis and bus body manufacturers. The trainee engineer will be required to gain a p.s.v. driving licence and to gain experience in handling different types of bus and coach.
The senior training scheme is free from rigidity in its application; indeed, any lack of flexibility would undo much of its value. Just as the intake of trainees is not specifically confined to one group, so the course of training is kept as fluid as possible and can be tailored to the specific requirements of the trainee concerned.