THE COMMON ROOM by George Wilmot
11th November 1966
Page 84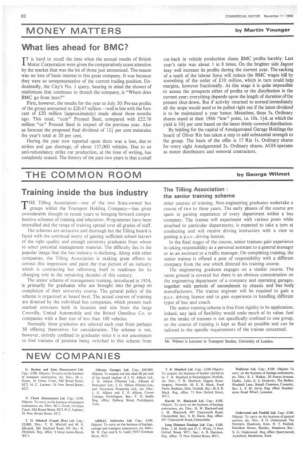 Page 84, 11th November 1966 —
THE COMMON ROOM by George Wilmot
Close
Training inside the bus industry
THE Tilling Association—one of the two State-owned bus groups within the Transport Holding Company—has given considerable thought in recent years to bringing forward comprehensive schemes of training and education. Programmes have been intensified and the range of training spread over all grades of staff.
The schemes are attractive and thorough but the Tilling board is faced with the continual worry of gaining sufficient school leavers of the right quality and enough university graduates from whom to select potential management material. The difficulty lies in the popular image that the bus industry is declining. Along with other companies, the Tilling Association is making great efforts to correct this impression and paint the true picture of an industry which is contracting but reforming itself in readiness for its changing role in the remaining decades of this century.
The senior scheme of management training, introduced in 1954, is primarily for graduates who are brought into the group on completion of their university course. The general policy of the scheme is organized at board level. The actual courses of training are directed by the individual bus companies, which present such marked contrasts both in location and size from the large Crosville, United Automobile and the Bristol Omnibus Co. to companies with a fleet size of less than 100 vehicles.
Normally three graduates are selected each year from perhaps 50 offering themselves for consideration. The scheme is not, however, entirely confined to graduates since it is not uncommon to find trainees of promise being switched to this scheme from