Successful Alliance
11th November 1966
Page 57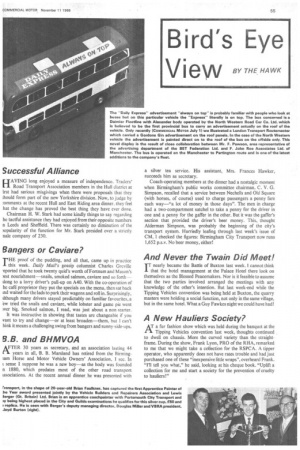 Page 57, 11th November 1966 —
Successful Alliance
Close
HAVING long enjoyed a measure of independence, Traders' Road Transport Association members in the Hull district at irst had serious misgivings when there were proposals that they ;hould form part of the new Yorkshire division. Now, to judge by :omments at the recent Hull and East Riding area dinner, they feel hat the change has proved the best thing they have ever done.
Chairman H. W. Stark had some kindly things to say regarding he tactful assistance they had enjoyed from their opposite numbers n Leeds and Sheffield. There was certainly no diminution of the )opularity of the function for Mr. Stark presided over a strict!), nale company of 230.
Bangers or Caviare?
THE proof of the pudding, and all that, came up in practice this week. Daily Mail's gossip columnist Charles Greville .eported that he took twenty quid's worth of Fortnum and Mason's )est nourishment—snails, smoked salmon, caviare and so forthdong to a lorry driver's pull-up on A40. With the co-operation of he cafe proprietor they put the specials on the menu, then sat back Lnd waited for the lads to park their wagons and roll in. Surprisingly, dthough many drivers stayed predictably on familiar favourites, a 'ew tried the snails and caviare, while lobster and game pie went wer big. Smoked salmon, I read, was just about a non-starter.
It was instructive in showing that tastes are changeable if you vant to try and change—or at least broaden—them, but I can't hink it means a challenging swing from bangers and sunny-side-ups.
9.8. and BHMVOA
NTER 30 years as secretary, and an association lasting 44 years in all, B. B. Marsland has retired from the Binninglam Horse and Motor Vehicle Owners' Association, I sec. In t sense I suppose he was a new boy—as the body was founded n 1880, which predates most of the other road transport issociations. At the recent annual dinner, he was presented with
a silver tea service. His assistant, Mrs. Frances Hawker, succeeds him as secretary.
Coach-operating members at the dinner had a nostalgic moment when Birmingham's public works committee chairman, C. V. G. Simpson, recalled that a service between Nechells and Old Square (with horses, of course) used to charge passengers a penny fare each way—"a lot of money in those days". The men in charge had a two-compartment satchel to take a penny for the driver in one and a penny for the gaffer in the other. But it was the gaffer's section that provided the driver's beer money. This, thought Alderman Simpson, was probably the beginning of the city's transport system. Hurriedly leafing through last week's issue of CM, I checked the figures: Birmingham City Transport now runs 1,652 p.s.v. No beer money, either!
And Never the Twain Did Meet!
IT nearly became the Battle of Buxton last week. I cannot think that the hotel management at the Palace Hotel there look on themselves as the Blessed Peacemakers. Nor is it feasible to assume that the two parties involved arranged the meetings with any knowledge of the other's intention. But last week-end while the Tipping Vehicles convention was being held at Buxton, the quarry masters were holding a social function, not only in the same village, but in the same hotel. What a Guy Fawkes night we could have had!
A New Hauliers Society?
Ar a fur fashion show which was held during the banquet at the Tipping Vehicles convention last week, thoughts continued to dwell on chassis. More the curved variety than the straightframe. During the show, Frank Lyon, PRO of the RHA, remarked to me that we might take a collection for the RSPCA. A tipper operator, who apparently does not have rates trouble and had just purchased one of these "inexpensive little wraps", overheard Frank. "I'll tell you what," he said, looking at his cheque book. "Uplift a collection for me and start a society for the prevention of cruelty to hauliers!"