Riddle of the failures
11th November 1966
Page 52
Page 53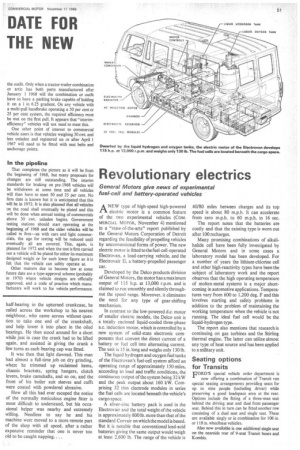 Page 52, 11th November 1966 —
Riddle of the failures
Close
IN a reasonably well-run vehicle overhaul shop with suitable tools and staff for each duty, there is little that should go far adrift—at least not far enough to create a mystery. Yet in one engine and general machine section a series of failures after crank grind and line bore caused annoyance and expense before the mystery was cleared up.
The first failure involved a six-cylinder diesel with dowelled white metal bearings. This engine ran 30 hours after assembly and including test, when it became noisy and oil pressure would fall away visibly only minutes after starting. The sump was dropped and bearings opened up. Clearances had widened incredibly, and the shaft was dull and rough. There was nothing for it but to strip out, skim the shaft and start again with undersize bearings.
Meanwhile, a lead bronze engine was near completion, and in due course was bench-tested and subsequently installed in a tractor chassis. It is enough to say that this engine rattled itself to a standstill in under 400 miles. This was too much, and turned some rather hot attention on the engine section.
All concerned were shown the damage, which, in the case of the lead bronze engine was dried out and semi-dragged bearings with roughened journals. Lubricating oi storage was examined, together with the engine storage bay, and no dust, grit or other dangerous debris was found. Cleaning cloths and fluids came in for close inspection, likewise each workbench, engine stand etc., and all were in the clear.
Nevertheless it was evident that bedengines had been on the receiving end oi an abrasive. But from where? After clear. ing the crank grinder, thoughts could nal help but centre around some form of sabo. tage. However, the investigation had to con tinue, and the next engine job was watchec from the crank leaving the grinder, through out the line bore, clean-out, and on tc assembly, and during this last operation tin mystery was solved.
As the engine fitter located the fina half-bearing in the upturned crankcase, he called across the workshop to his nearest neighbour, who came across without question to take one end of the crankshaft, and help lower it into place in the oiled bearings. He then stood around for a short while just in case the crank had to be lifted again, and assisted in giving the crank a few turns as each bearing cap was fitted.
It was then that light dawned. This man had almost a full-time job on dry grinding, where he trimmed up reclaimed items, chassis brackets, spring hangers, clutch levers, brake camshafts, and so on, and the front of his boiler suit sleeves and cuffs were coated with powdered abrasive.
How all this had ever escaped the notice of the normally meticulous engine fitter is most difficult to understand, but his occasional helper was nearby and extremely willing. Needless to say he and his machine were moved to a more remote part of the shop with all speed, after a rather expensive reminder that one is never too old to be caught napping.