Same job different tools
11th November 1966
Page 51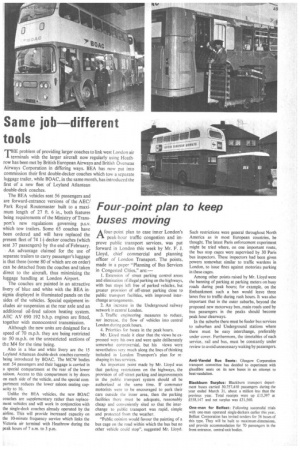 Page 51, 11th November 1966 —
Same job different tools
Close
TiE problem of providing larger coaches to link west London air terminals with the larger aircraft now regularly using Heathrow has been met by British European Airways and British Overseas Airways Corporation in differing ways. BEA has now put into commission their first double-decker coaches which tow a separate luggage trailer, while BOAC, in the same month, has introduced the first of a new fleet of Leyland Atlantean double-deck coaches.
The BEA vehicles seat 56 passengers and are forward-entrance versions of the AEC/ Park Royal Routemaster built to a maximum length of 27 ft. 6 in., both features being requirements of the Ministry of Transport's new regulations governing p.s.v. which tow trailers. Some 65 coaches have been ordered and will have replaced the present fleet of 74 lf-decker coaches (which seat 37 passengers) by the end of February.
An advantage claimed for the use of separate trailers to carry passenger's luggage is that these (some 80 of which are on order) can be detached from the coaches and taken direct to the aircraft, thus minimizing the luggage handling at London Airport.
The coaches are painted in an attractive livery of blue and white with the BEA insignia displayed in illuminated panels on the sides of the vehicles. Special equipment includes air suspension at the rear axle and an additional oil-fired saloon heating system. AEC AV 690 192 b.h.p. engines are fitted, together with monocontrol transmission.
Although the new units are designed for a speed of 70 m.p.h. they are being restricted to 50 m.p.h. on the unrestricted sections of the M4 for the time being.
Also in a blue and white livery are the 15 Leyland Atlantean double-deck coaches currently being introduced by BOAC. The MCW bodies seat 54 passengers and their luggage is carried in a special compartment at the rear of the lower saloon. Access to this compartment is by doors on each side of the vehicle, and the special compartment reduces the lower saloon seating capacity to 16.
Unlike the BEA vehicles, the new BOAC coaches are supplementary rather than replacement vehicles and will work in conjunction with the single-deck coaches already operated by the airline. This will provide increased capacity on the 10-minute frequency service which links the Victoria air terminal with Heathrow during the peak hours of 7 a.m. to 3 p.m.