Four-point plan to keep buses moving
11th November 1966
Page 51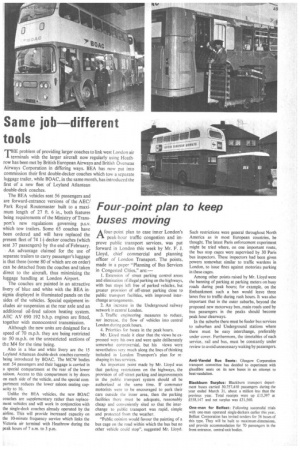 Page 51, 11th November 1966 —
Four-point plan to keep buses moving
Close
Afour-point plan to ease inner London's peak-hour traffic congestion and improve public transport services, was put forward in London this week by Mr. F. J. Lloyd, chief commercial and planning officer of London Transport. The points, made in a paper "Planning of Bus Services in Congested Cities," are:— I. Extension of street parking control areas and elimination of illegal parking on the highways, with bus stops left free of parked vehicles, but greater provision of off-street parking close to public transport facilities, with improved interchange arrangements.
2. An increase in the Underground railway network in central London.
3. Traffic engineering measures to reduce, not increase, the flow of vehicles into central London during peak hours.
4. Priorities for buses in the peak hours.
Mr. Lloyd made it clear that the views he expressed were his own and were quite deliberately somewhat controversial, but his views were nevertheless very much along the lines of thinking included in London Transport's plan for reshaping its bus services.
An important point made by Mr. Lloyd was that parking restrictions on the highways, the provision of off-street parking and improvements in the public transport system should all be authorized at the same time. If commuter motorists were to be encouraged to park their cars outside the inner area, then the parking facilities there must be adequate, reasonably cheap and conveniently sited so that the interchange to public transport was rapid, simple and protected from the weather.
"Public opinion would favour the painting of a bus cage on the road within which the bus but no other vehicle could stop", suggested Mr. Lloyd. Such restrictions were general throughout North America as in most European countries, he thought. The latest Paris enforcement experiment might be tried where, on one important route, the bus stop cages were supervised by 30 Paris bus inspectors. These inspectors had been given powers somewhat similar to traffic wardens in London, to issue fines against motorists parking in these cages.
Among other points raised by Mr. Lloyd were the banning of parking at parking meters on busy roads during peak hours; for example, on the Embankment such a ban would leave three lanes free to traffic during rush hours. It was also important that in the outer suburbs, beyond the proposed new motorway box, main roads used by bus passengers in the peaks should become peak-hour clearways.
In the suburbs there must be feeder bus services to suburban and Underground stations where there must be easy interchange, preferably under cover. Furthermore, the timetables of each service, rail and bus, must be constantly under review to avoid unnecessary waiting by passengers.
Anti-Vandal Bus Seats: Glasgow Corporation transport committee has decided to experiment with glassfibre seats on its new buses in an attempt to beat vandalism.
Blackburn Surplus: Blackburn transport department buses carried 30,757,410 passengers during the year ended March 31, about a million less than the previous year. Total receipts were up £15,397 at £558,147 and net surplus was £.31,560.
One-man for Belfast: Following successful trials with one-man operated single-deckers earlier this year, Belfast Corporation has invited tenders for 36 buses of this type. They will be built to maximum dimensions, and provide accommodation for 70 passengers in the front-entrance, central-exit bodies.