Reed Transport backs small operator's application
11th November 1966
Page 44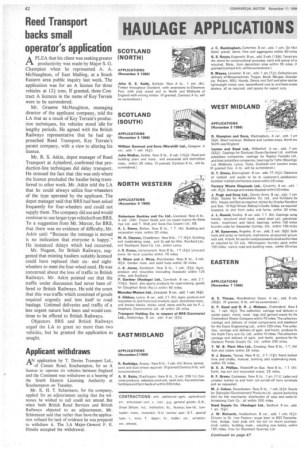 Page 44, 11th November 1966 —
Reed Transport backs small operator's application
Close
APLEA that his client was seeking greater productivity was made by Major S. G. Champion when he represented A. A. McNaughton, of East Mailing, at a South Eastern area public inquiry last week. The application was for an A licence for three vehicles at 124 tons. If granted, three Contract A licences in the name of Key Terrain were to be surrendered.
Mr. Graeme McNaughton, managing director of the applicant company, told the LA that as a result of Key Terrain's production techniques, his vehicles stood idle for lengthy periods. He agreed with the British Railways representative that he had approached Reed Transport, Key Terrain's parent company, with a view to altering his licence.
Mr. R. S. Atkin, depot manager of Reed Transport at Aylesford, confirmed that production-line techniques did delay transport. He stressed the fact that this was only where the licence precluded the haulier being transferred to other work. Mr. Atkin told the LA that he could always utilize four-wheeelers of the type operated by the applicant. The depot manager said that BRS had been asked frequently for four-wheelers and could not supply them. The company did use and would continue to use larger type vehicles from BRS. To a suggestion from Mr. Mercer, for BRS, that there was no evidence of difficulty, Mr. Atkin said: "Because the tonnage is moved is no indication that everyone is happy." He instanced delays which had occurred.
Mr. Nugent, for British Railways, suggested that existing hauliers suitably licensed could have replaced their sixand eightwheelers to meet the four-wheel need. He was concerned about the loss of traffic to British Railways. Mr. Atkin pointed out that the traffic under discussion had never been offered to British Railways. He told the court that this was traffic which consisted of goods required urgently and lent itself to road haulage. U,ntirned deliveries and traffic of a less urgent nature had been and would continue to be offered to British Railways.
Objectors BRS and British Railways urged the LA to grant no more than two vehicles, but he granted the application as sought.