'Viciously bad
11th November 1966
Page 43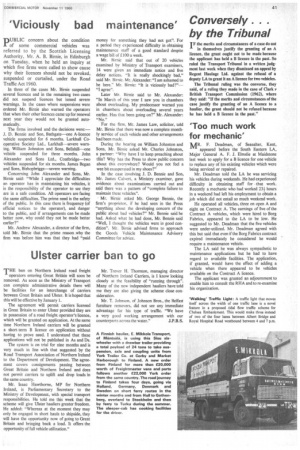 Page 43, 11th November 1966 —
'Viciously bad
Close
Keywords :
pUBLIC concern about the condition of some commercial vehicles was referred to by the Scottish Licensing Authority, Mr. A. B. Birnie, in Edinburgh on Tuesday, when he held an inquiry at which five firms were called to show cause why their licences should not be revoked, suspended or curtailed, under the Road Traffic Act 1960.
In three of the cases Mr. Birnie suspended several licences and in the remaining two cases did not suspend licences but issued severe warnings. In the cases where suspensions were ordered Mr. Birnie also warned the operators that when their other licences came up for renewal next year they would not be granted automatically.
The firms involved and the decisions were:— J. D. Bennie and Son, Baffigate—one A-licence vehicle suspended for 6 months. Larkhall Co
operative Society Ltd., Larkhall severe warning. William Johnston and Sons, Bellshill—one vehicle suspended for three months. John Alexander and Sons Ltd., Coatbridge—two vehicles suspended for six months. James Began and Sons, Itishopbriggs—severe warning.
Concerning John Alexander and Sons, Mr. Birnie said: "While I appreciate the difficulties an operator has in maintaining his vehicles, it is the responsibility of the operator to see they are in a safe condition. All operators are facing the same difficulties. The prime need is the safety of the public. In this case there is frequency (of official notices to the operator), and danger to the public, and if arrangements can be made better now, why could they not be made better earlier?" money Mr something they had not got". For a period they experienced difficulty in obtaining maintenance staff of a good standard despite a wage bill of .f.100 a week.
Mr. Birnie said that out of 20 vehicles examined by Ministry of Transport examiners, 14 were given an immediate notice and five delay notices. "It is really shockingly bad," said Mr. Birnie. Mr. Alexander: "lam ashamed to be here." Mr. Birnie: "It is viciously bad?"
"I agree".
Later Mr. Birnie said to Mr. Alexander: "In March of this year I saw you in chambers about overloading. My predecessor warned you in chambers about overloading several years earlier. Has that been going on?" Mr. Alexander:
For the firm, Mr. James Law, solicitor, told Mr. Birnie that there was now a complete monthly service of each vehicle and other arrangements had been made.
During the hearing on William Johnston and Sons, Mr. Birnie asked Mr. Charles Johnston, a partner: "Why have Ito keep preaching about this? Why has the Press to show public concern about this everywhere? Would you not feel a wee bit exasperated in my shoes?"
In the case involving J. D. Bennie and Son, Mr. James Calvert, a Ministry examiner, gave evidence about examinations carried out and said there was a pattern of "complete failure to maintain these vehicles".
Mr. flimie asked Mr. George Bennie, the firm's proprietor, if he had seen in the Press "anything about the developing concern of the public about bad vehicles?" Mr. Bennie said he had. Asked what he had done, Mr. Bennie said "Well, I thought the vehicles were hi good condition". Mr. Birnie advised firms to approach the Goods Vehicle Maintenance Advisory Committee for advice. Mr. Andrew Alexander, a director of the firm, told Mr. Birnie that the prime reason .why the firm was before him was that they had "paid